The second skin for your motorcycle
MYCOVER® Premium motorcycle covers
Exclusive outdoor quality • Handmade • Tear resistant • Waterproof • Can be used all year round • Perfect fit
Easy and fast size selection
Size recommendations for more than 1300 models
Over 15 intermediate sizes for all types of motorcycles
Premium quality without compromise
Like thousands of other bikers, trust MYCOVER®
A very robust and tear-resistant material: after more than 2 years of continuous use, no cracks, UV damage, or the like. Definitely no comparison to my previous tarps!
Finally a waterproof motorcycle tarp that really protects. Even after several heavy rains no problems. Absolutely Top!
Why MYCOVER®?
Developed by bikers for bikers
Fed up with constantly torn motorcycle tarps, we decided in 2018 to develop for our own bikes THE premium cover tarpaulin.
Today, together with our biker community, we develop custom-fit outdoor motorcycle covers for all manufacturers and models.
Our partners
Problems of our biker community
Typical problems with motorcycle "covers"
Material breakage after a short time – Can cause damage & loss of value to the motorcycle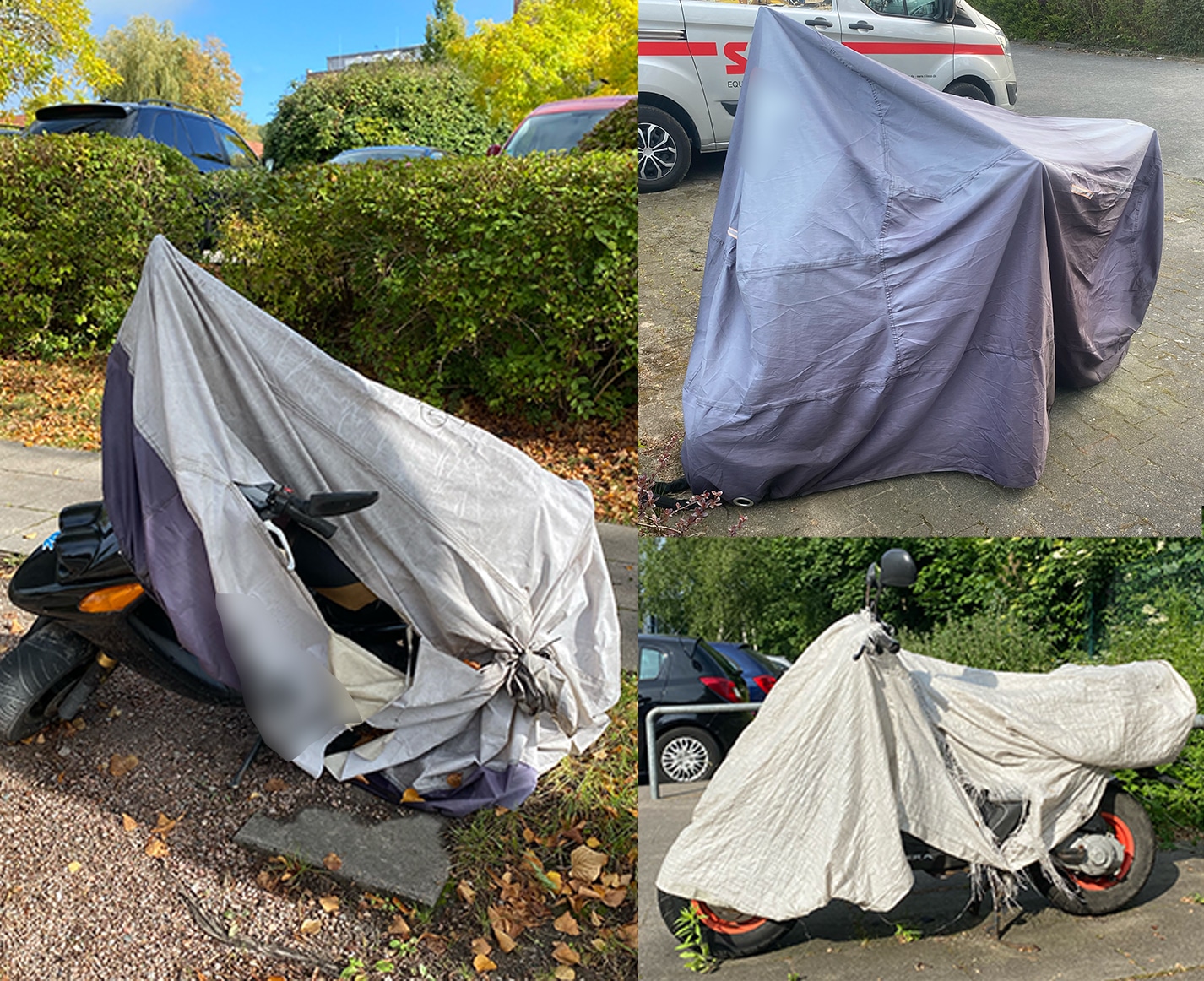 Material breakage due to frost and UV damage. Seams tear due to poor workmanship and inferior material.
Poor fit, lies on the damp ground and flutters strongly in the wind. Attention: Danger of overturning!
Defective electronics, including safety-relevant components. In addition, rust and mold due to standing moisture.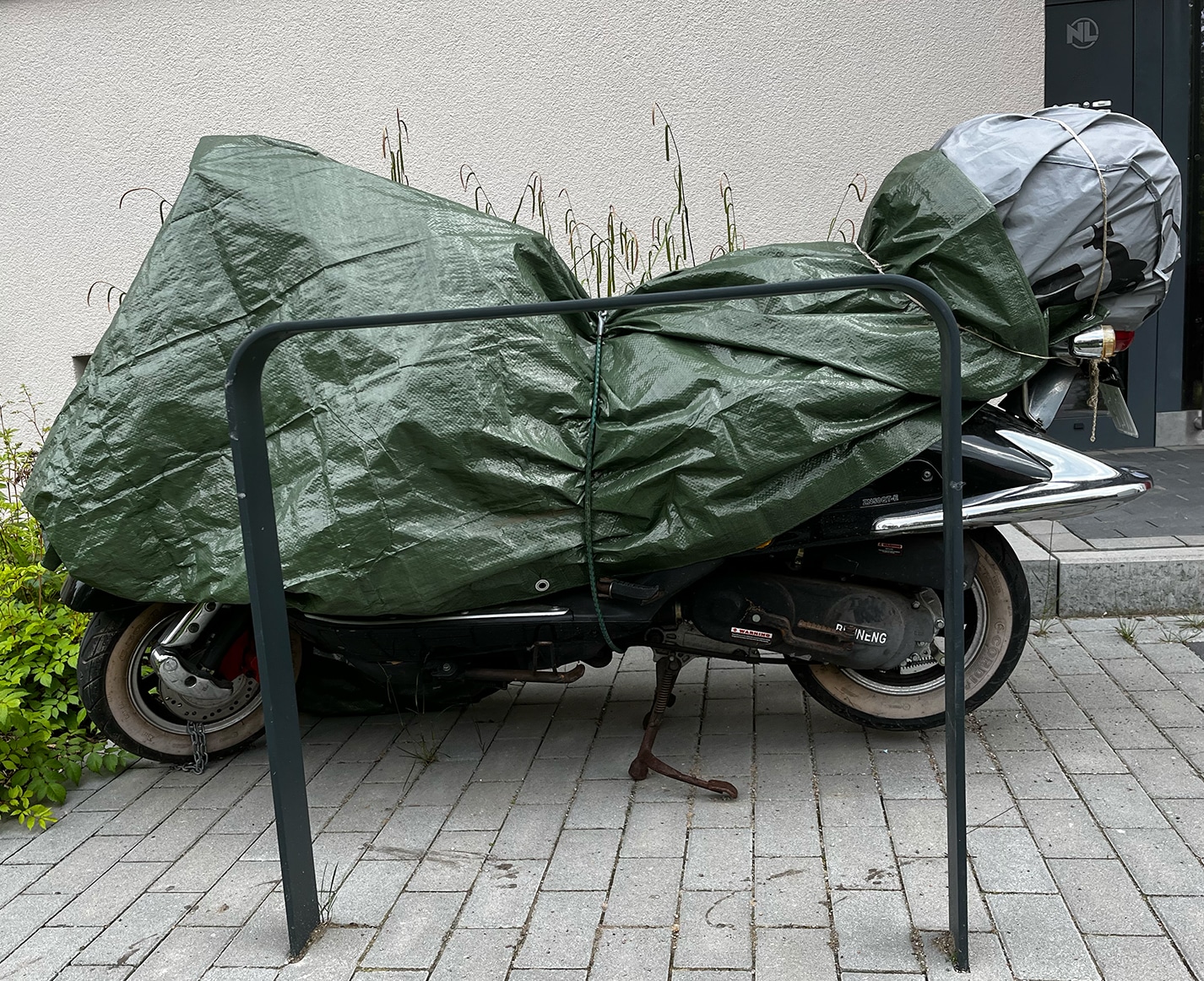 Simple rain tarp, neither fit nor breathable. Definitely not suitable for outdoor use!
For your motorcycle no compromise!
Choose exclusive motorcycle protection
Our motorcycles deserve real long-term outdoor protection! That is why we have combined special outdoor material with our best features:
Exclusive outdoor material
Waterproof and breathable for maximum value retention
Strong all weather protection
UV resistant and weatherproof with double nano coating
100% Resistant
Scratch & tear resistant 300D material with extra reinforced double seams
Handmade & sewn
From experienced employees for long-term value retention
Optimal fit
No flapping due to perfect fit sizes with elastic hemline
Protects the paint permanently
Special scratch protection with extra soft inner fleece
Additional heat protection material
Reduces the risk of heat damage (up to approx. 200°C)
Protects your exhaust
In the lower area of the manifold up to the end muffler
Double ventilation zone
At the level of the exterior mirrors to allow moisture to escape effectively
Optimal air circulation
Prevents waterlogging and helps prevent rust
Bright reflectors
Discreetly finished in the seams in a striking design
360° visibility at night
For optimal reflection from all sides
Reinforced lock openings
Without rubbing plastic or aluminum rings protect your rims and paint
Theft protection on both sides
Depending on the parking situation, attach the lock to the front or rear wheel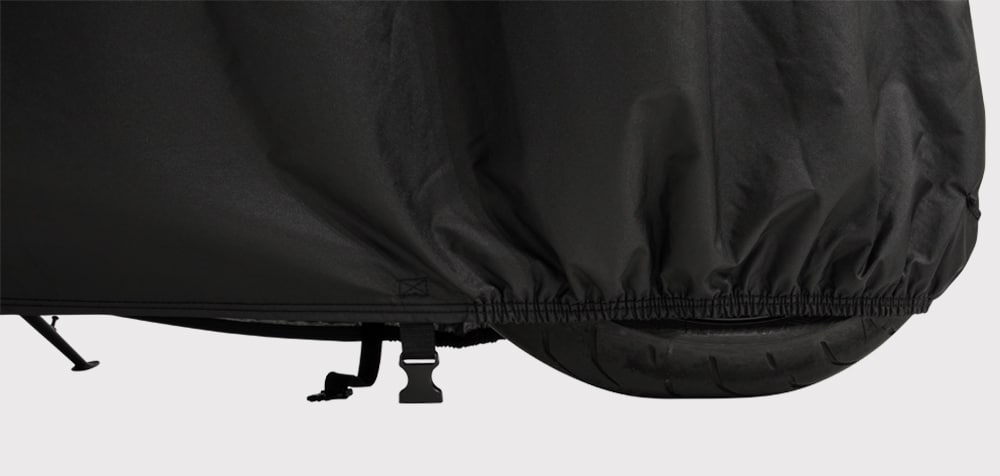 2x Sturdy safety belts
Securely fix the tarpaulin to the motorcycle
Protects sensitive components
By minimizing the susceptibility to wind and friction on the coating
license plate window
Approved according to § 10 ABs. 2 GZV and § 23 para. 1 StVO
For each parking lot
Suitable and no more towing or parking ticket
Experience the MYCOVER® quality
Probably the last cover you'll buy!
Optimal fit for your motorcycle
New: Intermediate sizes for all motorcycle types
Tourer • Chopper • Supersports • Naked • Enduro • Scooter
Tourer: BMW R 1200 RT
Chopper: Harley Davidson Super Glide
Supersport: BMW S1000RR
Naked: Yamaha XSR700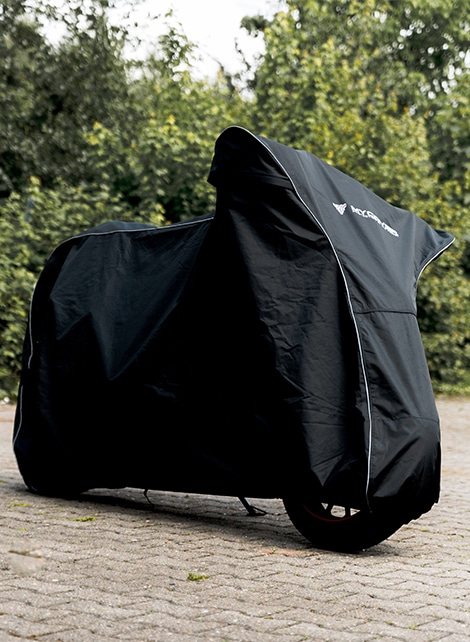 Enduro: Ducati Hypermotard
Scooter: Vespa GTS 125
Over 1300 size recommendations
Find your right size in three easy steps
Original condition: The dimensions of the motorcycle are unchanged
Not original condition: For example, another windscreen or mirror, short license plate holder, top case or other accessories that change the dimensions
Please enable JavaScript to browse the size recommendations.
Your motorcycle is not included or you prefer to measure yourself? The dimensions of the cover and a measuring guide can be found on the product page of our motorcycle cover.
Real experience
What other bikers say
Fits perfectly and has a very high quality finish. Highly recommended!
Tarpaulin with a top quality. This is exactly the kind of tarp I was looking for!
Before that, I had already worn out three covers. The last had not even held 3 months before the seams have opened… From the outdoor we have already bought the second, first for my athletes and now for the touring bike of my brother. If you want premium, you won't get past Mycover, absolutely top!
Perfect fit professional garage! The cover fits perfectly on my motorcycle. Almost like a second skin.
The large specification is very reliable and also fits in reality. The workmanship is very valuable. Everything feels good and has good protection in places where it can still get hot.
Gladly again, I will definitly recommend it…
The first impression is very satisfactory and fit
The tarp is relatively thick, seems qualitative in terms of fabric and is well thought out (inner soft coating – heat resistant – elastic band – …)
Super coverage: before I ordered the tarp, I had email contact because my motorcycle is no longer quite up to standard. The recommendation regarding size was a very good fit. Am very satisfied, especially from the material and the quick response to my request.
Really recommendable! Meanwhile, we have in the "motorcycle enthusiast family" 4 pieces of covers from you.
Fits great, material feels very sturdy. Had already several other tarpaulins that were worn through over time by the wind at the stern, the new one does not move at all in normal wind. Am thrilled.
Have a BMW 1250 GS and bought an XL+ hood from Mycover for this vehicle.
Today after 2 years I can say that the quality, durability and robustness as described by Mycover is true.
I have unfortunately no garage and my motorcycle is always on the same forecourt at the house in the blazing sun, (plastic parts on the GS) already bleached out easily, because of the blazing sun.
My hood should be at least UV-resistant, breathable, robust, so all wishes fulfilled.
My motorcycle had survived the entire winter and summer without moisture and UV damage, so, I can confirm for myself that this is an excellent product that I had wanted for a very long time.
Previously I had bought ( 5 different) protective covers, including one from BMW, but all did not fulfill my purposes or only to a limited extent.
Thank you, Mycover!
BMW S1000XR 2015 – Fits like a second skin 1A++ of quality: I have had many tarps, very expensive and very cheap. The only difference so far what the price, but the quality felt always the same garbage bag. I heard about MyCover from a buddy who lives in HH (I'm PI myself *sorry*).
The XL+ tarp fits my BMW S1000XR like a glove. The fabric and stitching are of the finest quality. Even in strong winds (today is storm in HH and PI 29.01.2022), the tarp remains very stable on the machine and does not flutter a bit (I'm looking out the window right now). Heavy rain can the tarp off without any problems and the moped remains absolutely dry. The typical problem with condensation has not reoccurred with me so far. Now if the UV resistance is also as good as the rest, this is the best tarp you can buy. I definitely recommend your product. Ps. The bag is really awesome!
Choose MYCOVER® now
Your bike deserves more than a cheap cover!