What you really should know before buying an outdoor motorcycle tarpaulin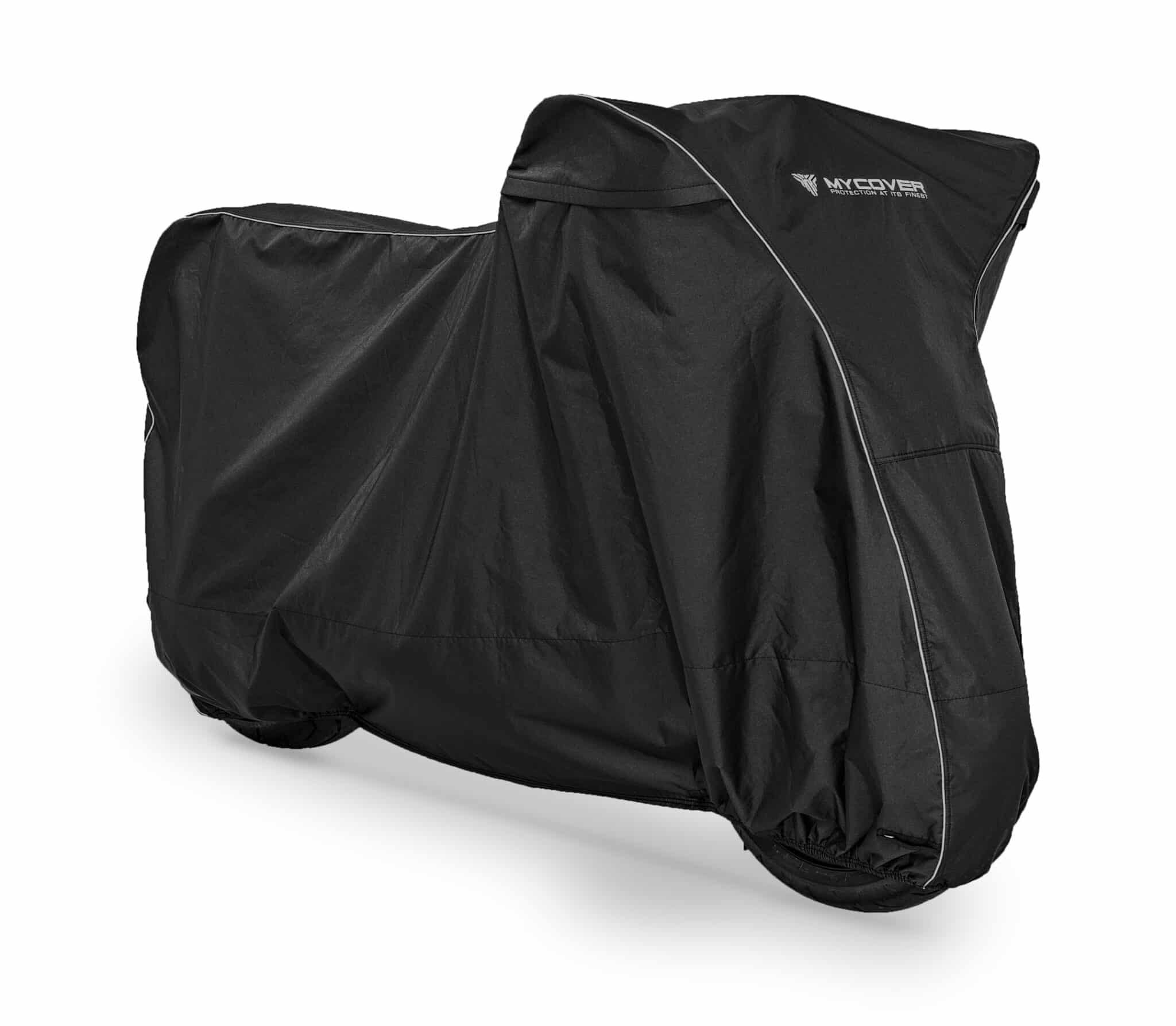 As a biker, you always think about your beloved motorcycle. Especially when the motorcycle is permanently outside, it is exposed to the weather without any protection. Without additional protection, the consequences are not long in coming:
First the chain and the brake discs rust, then rust develops on your motorcycle fork, at the same time the paint fades due to UV radiation and the seals or dust protection caps on the brakes and forks leak more quickly. Last but not least, bird droppings finish off your paintwork…
The loss in value compared to a motorcycle in top condition can quickly amount to over 50%!
This is where a good motorcycle tarpaulin can help! But the market is full of cheap tarpaulins that break after just a few months and all call themselves "premium".
Since we also had to experience this, we will show you what really matters in a good motorcycle tarpaulin and how you can avoid unnecessary repairs and expensive visual defects on your motorcycle!
Why do I need a motorcycle tarpaulin?
Rain, snow, ice, dirt and UV rays… the (new) motorcycle will face tough times if it is not given additional protection. In the following chapter we will look at the most common motorcycle problems and their causes. Often these are avoidable problems or repairs, which unfortunately can sometimes be very expensive.
Do I need a motorcycle tarpaulin when parking outside?
If you plan to park your motorcycle outside on a regular basis and spend the winter outside, for example, a motorcycle cover is essential. If you do without a motorcycle tarpaulin when storing it for the winter, you risk a high loss in value of the motorcycle. If condition and resale value are important to you, you should cover and protect your motorcycle with a good motorcycle tarpaulin!
Why exactly? You will find out in the following chapters of our detailed motorcycle cover advisor.
But I have a carport, do I also need a motorcycle tarpaulin?
Even under a carport, your motorcycle is exposed to morning dew, dirt, ice and snow and rain due to side winds. Animals such as cats, martens or birds (and their legacies) also like to settle on your paintwork or the seat with their sharp claws.
Of course we have a heart for animals, but when an animal is frightened and "panically" digs its claws into the seat or the paintwork of your motorcycle, it not only hurts the biker's heart, but also the wallet…
I have a garage, so I really don't need a motorcycle tarpaulin
It doesn't matter whether it's in a normal garage or an underground car park: dirt, dust and soot with their fine particles tend to settle on the motorcycle, which will cause unsightly scratches the next time you wipe it over – even if you only see it in the sun! An animal likes to get lost in such a "safe" place.
Bikers also regularly tell us that unauthorized persons simply sit on the motorcycle and leave a few scratches on the paintwork (from handbags, belt buckles, keys, etc.) as a thank you. Or you come back from shopping and the child greets the motorcycle with a swinging open car door.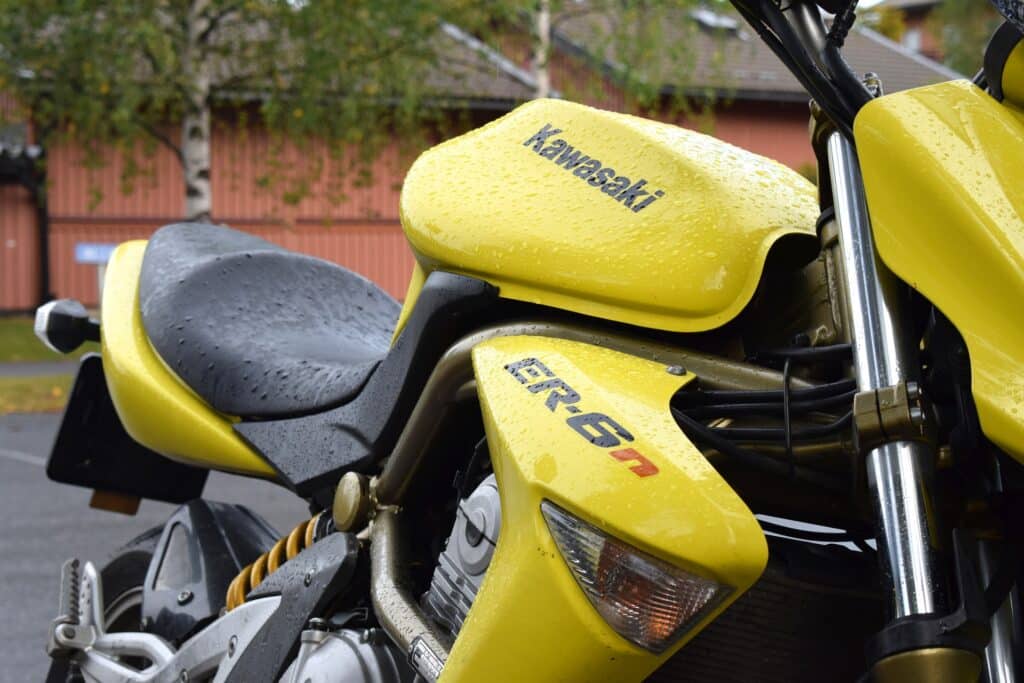 Weather and weather influences that damage your motorcycle – without additional protection – in the long term
More and more extreme weather and weather conditions are a real challenge for the motorcycle. But what exactly harms the motorcycle? And what should you pay particular attention to?
humidity in general
Since modern motorcycles no longer work without their electronics, electronic problems occur here not only in the long term, but sometimes also in the short term. Moisture easily creeps into all openings and cracks, which is why additional protection is necessary here. A good example here is a motorcycle manufacturer from Germany, which regularly has problems with the start button due to moisture, which unfortunately often makes the proud owners look stupid.
rain and acid rain
Due to water and remaining moisture on and in the motorcycle, the components rust much faster. Regularly drying, cleaning (especially after a rain shower) and maintaining your motorcycle can prevent many problems such as rust. But honestly: Who really dries and cleans their motorcycle regularly? Especially since there are on average ≈130 rainy days a year in Germany.
snow and frost
When snow melts or rain freezes, the moisture creeps into all openings and cracks and can then freeze again. This is a significant burden, especially for the electronic components. Freezing water expands and in the worst case, components can break and be literally "blown up". A good example of this is the previously chromed engine or transmission cover, where the chrome often flakes off quickly.
hail
Depending on the region, it hails up to 5 times a year on average. Hailstones fall from the sky at a speed of 20 to 30 m/s and can be up to 5 cm in diameter. If such hailstones hit the tank, the windscreen, the display or other painted parts unprotected, the motorcycle can be badly dented and damaged.
Sun & UV radiation: The paint
UV radiation attacks the paint over time. One speaks of so-called chalking, whereby the binder dissolves in the paint. As a result, the paint becomes matt and clearly loses its radiance. With very strong UV and solar radiation, this can stress the paintwork so much that it cracks and a complete repainting is necessary.
Plastic and rubber components on your motorcycle
These contain plasticizers, which are destroyed by UV radiation. The material not only fades quickly, but also becomes brittle and porous, and the component then has to be replaced. If you don't take this seriously with safety-relevant components, you will hopefully not be taught a lesson!
That is why there is also a note for (motorcycle) tires that not only the age and profile, but also the condition of the rubber is relevant to the TÜV. Rather let the tarpaulin suffer instead of the safety-relevant components on your motorcycle!
Dirt, grime, pollen and pebbles
If your motorcycle is parked on the street, in a carport or garage without a tarpaulin, you will have to clean it much more often. Unfortunately, the dirt and grime that is thrown up in the area sticks to the motorcycle far too quickly and can cause expensive scratches.
When parking outdoors, you not only have to watch out for falling branches, acorns and chestnuts, but also for the particularly stubborn pollen dust, which gets stuck on your motorcycle suit or clothes. Animal excrement is particularly aggressive and can, for example, permanently damage the paintwork and must therefore be removed from the motorcycle immediately.
Damage caused by careless road users
Cars driving by, children playing or the "final boss" for your paintwork: cleaning and gritting vehicles from the city cleaning department. Your motorcycle is not only exposed to the weather, but also to the careless actions of our fellow human beings.
Strong wind and small parts flying around
We see in Germany and all over the world that wind and storms are becoming more and more violent and frequent. It is all the more important that your motorcycle is well covered. Whether small twigs, hard chestnuts or acorns: In strong winds at high speeds, these are thrown through the air and can severely damage the paintwork, the sheet metal or the plastic components of your motorcycle. Therefore, make sure you have a sufficiently thick tarpaulin that can cushion such impacts.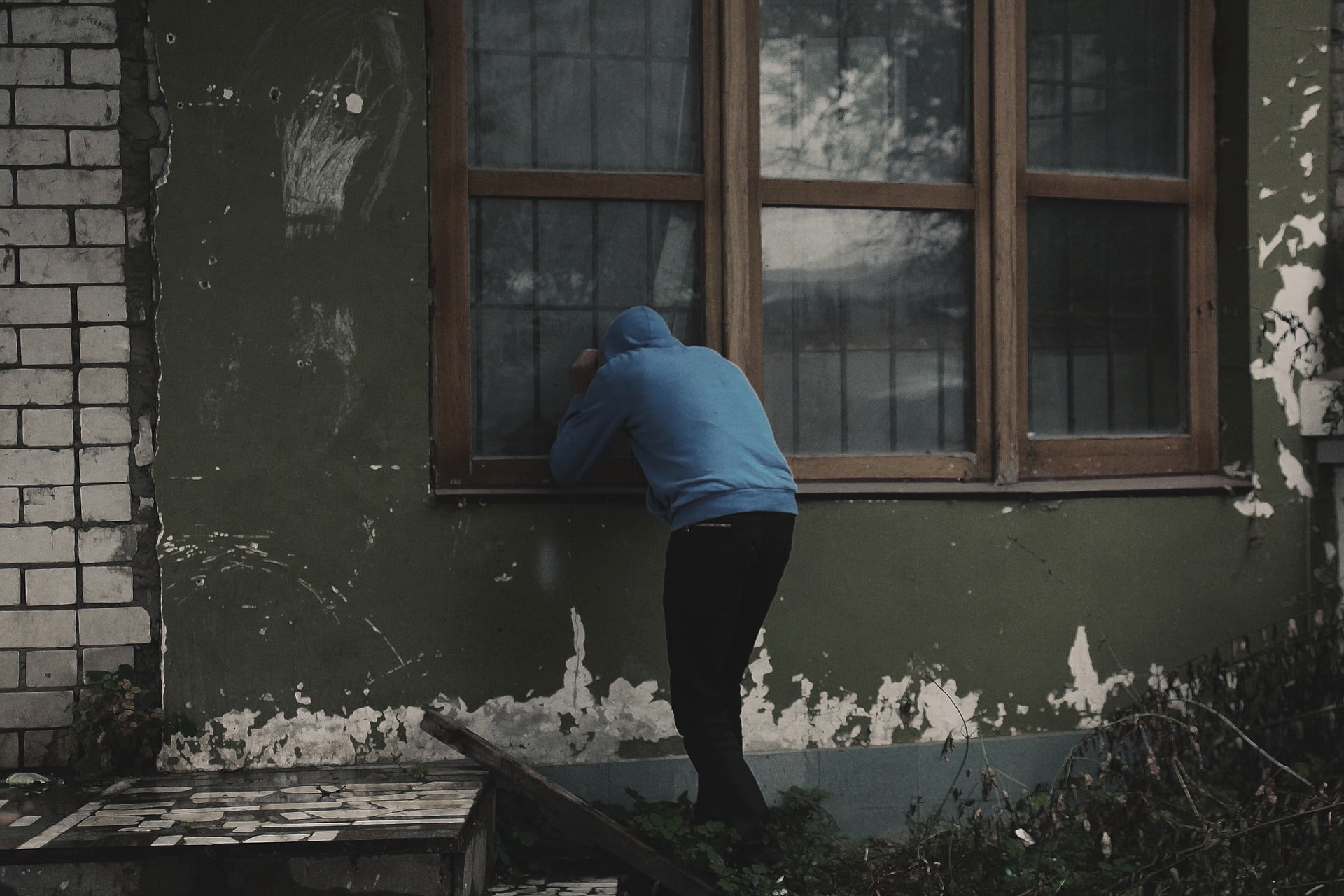 Privacy protection against theft: Your motorcycle without a cover is visible to everyone!
There are many prying eyes, and for some people, looking at your motorcycle inspires lust and ill intentions. Whether it's the beloved Akrapovic exhaust system, the Rizoma mirrors or the long-awaited carbon attachments. Theft of motorcycles and motorcycle accessories is still at a high level of over 20,000 registered thefts per year.
Would you like to know which motorcycle lock is right for you?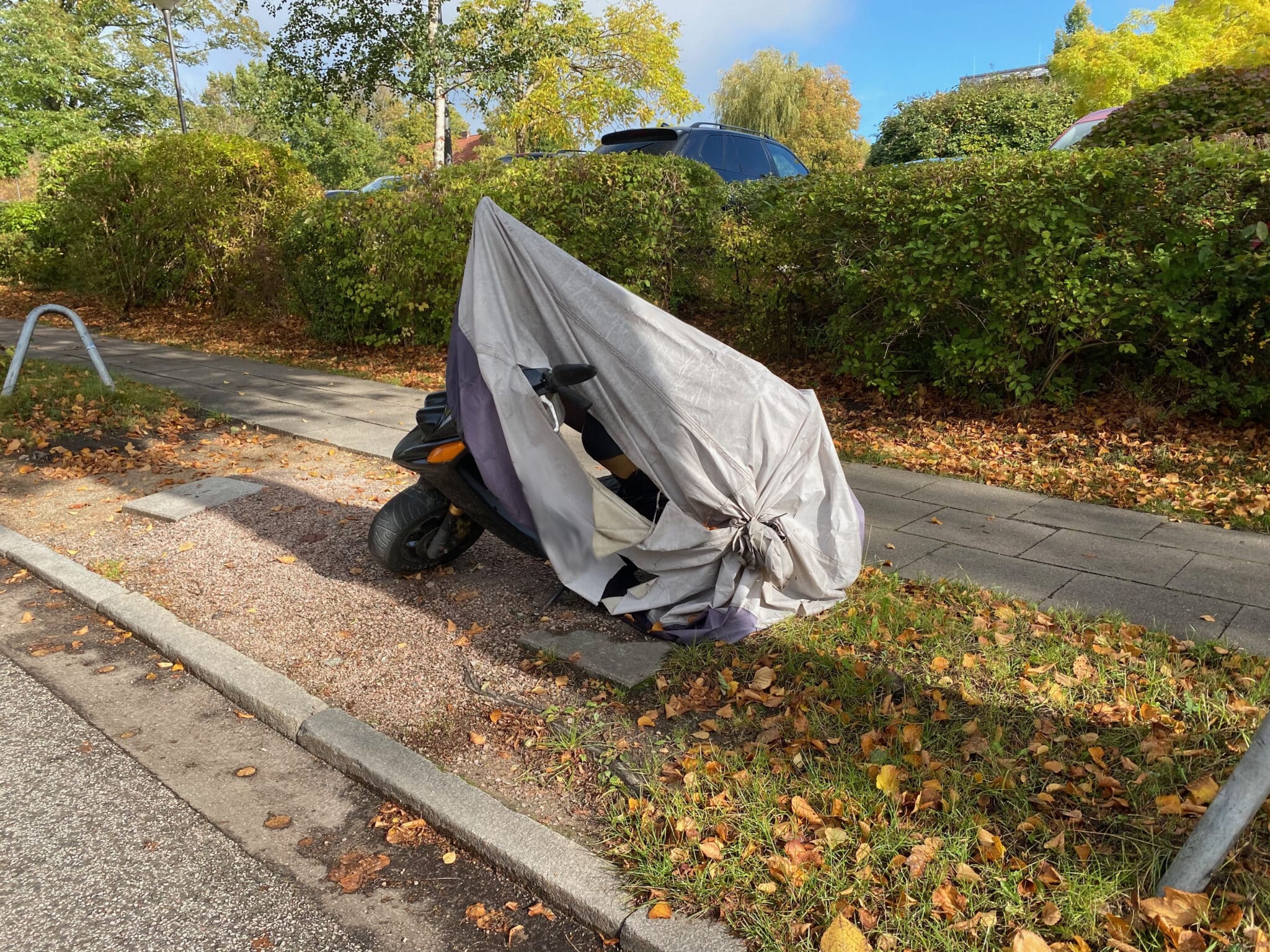 What should I look out for when buying a motorcycle tarpaulin?
Your own tarpaulin should also protect the motorcycle in the long term and not show the first defects after a few months. The longevity of a motorcycle tarpaulin is largely determined by the right choice of material and the quality of workmanship.
What material should a motorcycle tarpaulin be made of?
The choice is great! There are a variety of different materials on the market that are suitable for various areas of application: polyester, polyamide, polyethylene, other microfibers and many more.
For permanent outdoor protection, polyester has emerged as THE synthetic fiber with the best properties. It is tear-resistant and UV-resistant than polyamide. Only absorbs very little moisture and can dry more quickly.
In addition, polyester is very durable and breathable, which makes this material particularly suitable for outdoor use. An important property is the high UV resistance, so that the material is not decomposed and damaged by UV rays (a common problem with cheap motorcycle tarpaulins).
This is how the producers of tarpaulins trick to save costs
In order to save costs, manufacturers in the lower price segment usually only re-dye the fibers on the surface instead of dyeing the entire fiber. If the fibers are not dyed through, the color will fade much faster and an initially dark black will quickly turn pale and grey!
Unfortunately, as a layman, it is difficult to separate "the wheat from the chaff". As a customer, you have to rely on the manufacturer. Before we founded MYCOVER®, we were unfortunately too often deceived and disappointed by well-known brands and manufacturers – hopefully just because of their ignorance!
The processing of a motorcycle tarpaulin: Only quality really protects!
What makes a tarpaulin durable in the long term are the seams with which the fabric panels are sewn. Manufacturers who offer their tarpaulins at competitive prices have to save on production: Thin threads are used for the seam, only one stitch is sewn (instead of a stable double seam) and the time for sewing is often due to time and cost pressure so small that errors often occur during processing and work is not clean.
The result is tearing seams and leaking motorcycle tarpaulins after a short time.
The properties and functions that a motorcycle tarpaulin must have!
It's like a mobile phone: the technology is constantly improving, the devices are becoming more robust and yet over 90% of mobile phone owners use an additional protective cover. This should not only look good, but above all protect the mobile phone from damage.
The same should of course also apply to the motorcycle and the motorcycle tarpaulin!
The following features and functions eliminate the most common causes of depreciation, unnecessary repairs and costs.
1. Weatherproof and breathable
The right material for your motorcycle cover should not only be waterproof, but also breathable. Due to high humidity, for example when it rains, moisture always gets under the tarpaulin. So that this can escape as quickly as possible and an exchange of air takes place, breathable materials have a clear advantage compared to, for example, PE covers.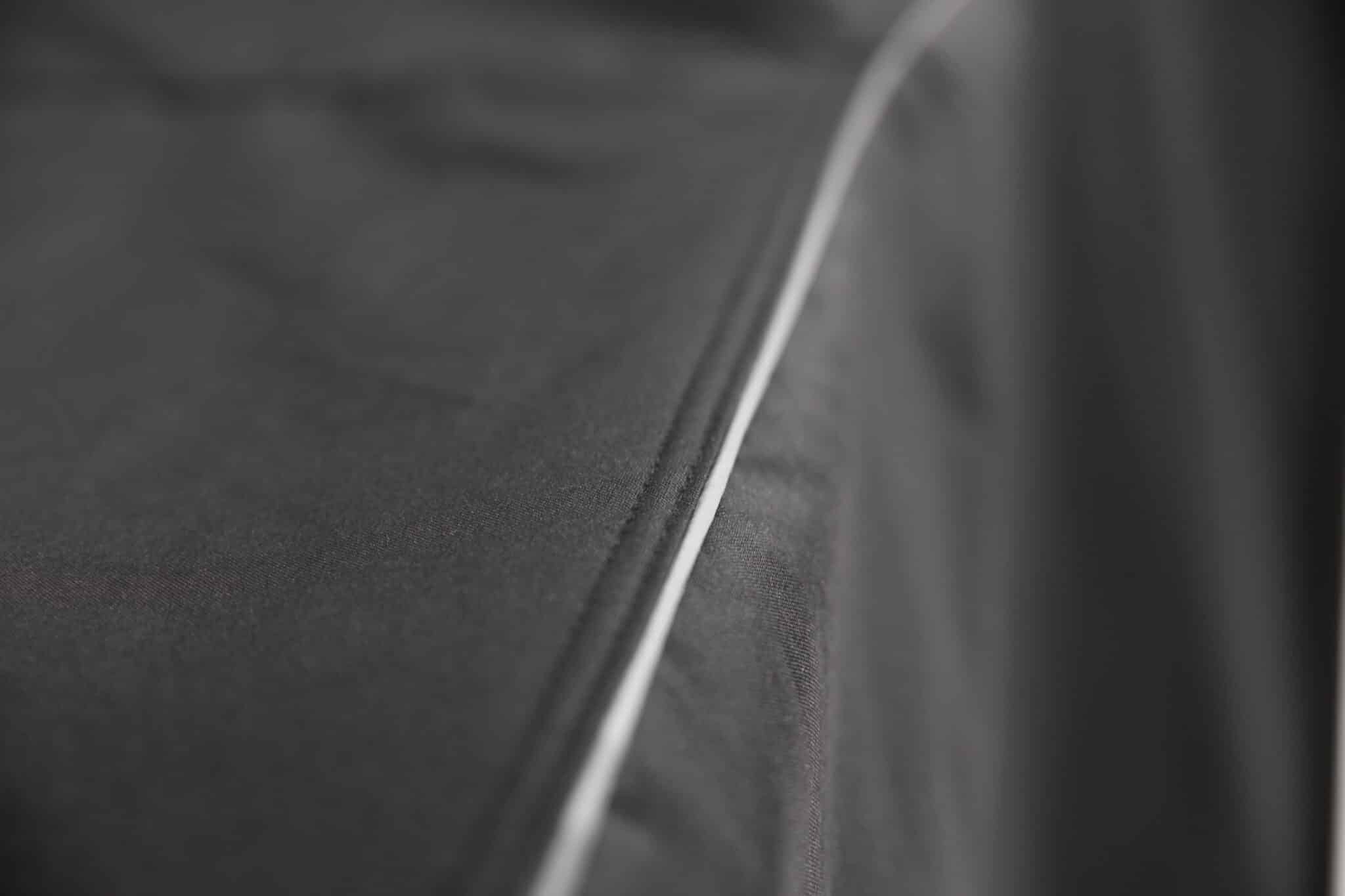 2. UV protection
In order to protect your motorcycle, the paint and the attachments from UV rays, a good tarpaulin should be impermeable to UV rays. Make sure, however, that the material itself is also resistant to UV radiation. As a rule, this is not the case with cheap motorcycle covers, which means that the motorcycle is protected against UV radiation for a short time, but the material usually shows the first signs of wear after just a few months: the color fades, the material loses its elasticity and becomes brittle before it finally breaks.
3. Cold and heat stable
Protection against heat: On the hottest summer days of the year, direct sunlight can cause surfaces to heat up to 80°C. The material of a resilient motorcycle tarpaulin must of course be able to withstand this. Bikers have often told us about tarpaulins that have melted in the sun. You can really do without this expense and time! It is not for nothing that some manufacturers even talk about melting tarpaulins on headlights and point out to customers in the operating instructions that a tarpaulin should not be pulled over a hot headlight.
4. Durable material
Whether in strong winds, as additional protection against theft or as protection against scratches and dents. The thicker and more durable the material of the tarpaulin, the more protection it offers. We recommend a durable 300 denier material, often abbreviated to "300D". Since this material is significantly more expensive than e.g. 190D or 210D – but also significantly more resistant – the wheat is separated from the chaff here. But again we have to mention again that 300D is not equal to 300D! As already mentioned in the material section, the quality of the processed raw materials is decisive here.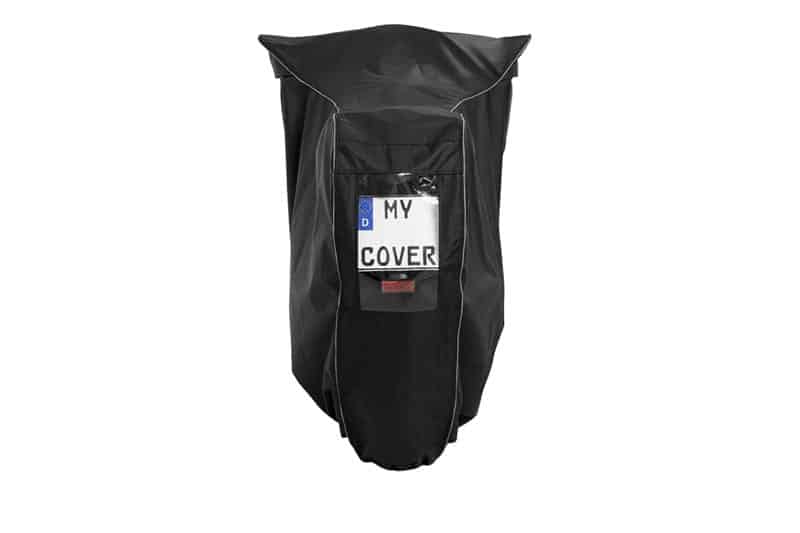 5. License plate or viewing window
According to § 10 para. 2 GZV and § 23 para. 1 StVO, a viewing window is mandatory in Germany and can be admonished in the event of non-compliance. So there is a risk of a ticket or, in the worst case, your motorcycle will even be towed away. Just make sure there is a license plate window and save the money for a tour with your friends!
6. Stain Resistant and Coated
An additional coating of the outer material increases the longevity of a motorcycle cover significantly. A repellent and water-resistant nano-coating not only allows raindrops to run off better, but also prevents the material from absorbing water on the outside.
7. Night visibility
Motorbike tarpaulins are often black or dark. Bright reflectors should be visible from every angle (all four sides) so that your motorcycle is clearly visible to cars parking out and other road users at dusk and at night. Is only e.g
If there is a reflector strip on two sides of the tarpaulin, the chance of being seen by other road users is only 50:50! Here it is also advisable to pay attention to the latest technologies and to have extra bright reflective strips on your tarpaulin. (UHRS – Ultra High Reflection Stripes)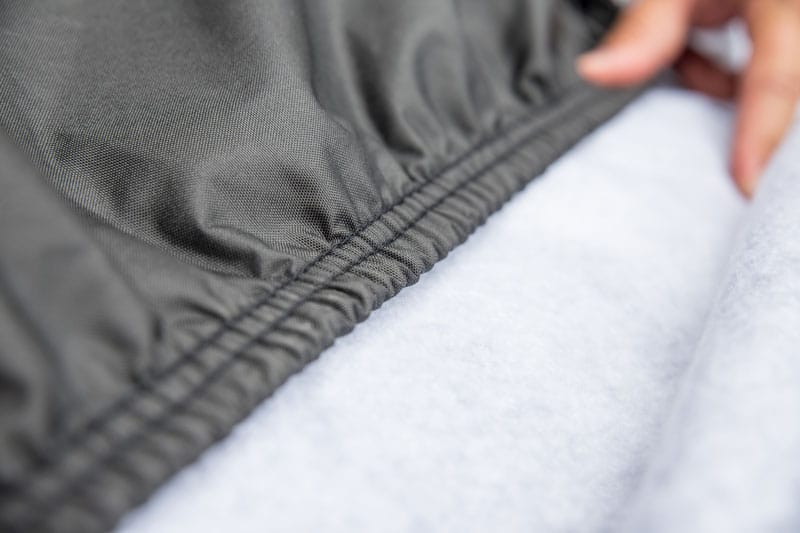 8. Good fit elastic hems
For an optimal fit and reduction of the friction forces on the painted components, a motorcycle cover should – in addition to the right size – have an elastic hem at the bottom. This allows the material to adapt to the individual design of your motorcycle. This not only looks better, but also prevents loud flapping in the wind.
9. Safety straps
To ensure that the tarpaulin stays stable on the motorcycle in strong winds and cannot be blown away by the wind, additional fastening options, such as two quick-release straps, must be available. These not only secure your tarpaulin, but also ensure a better fit and less friction on the sensitive paintwork and other components. They also prevent the tarpaulin from flaring up in strong winds, thus significantly reducing the risk of tipping over.
10. Heat protection material
After a "sporty" ride on your motorcycle, the manifold can get hotter than 800°C and a muffler over 250°C. Before you can cover your motorcycle, it must first have cooled down sufficiently so that neither the tarpaulin nor the motorcycle is damaged by the heat. An additional heat protection material on the inside helps with residual heat, which can reduce the risk of heat damage (usually up to 200°C).
11. Theft Protection
The more resistance there is for a thief, the less likely it is that your motorcycle will be stolen. If the tarpaulin offers the possibility of using a motorcycle lock through additional openings, this not only makes it more difficult to steal the motorcycle, but also theft of the tarpaulin itself.
The pros and cons of motorcycle tarpaulins
Now that we have dealt in detail with the individual topics, areas and questions when buying a motorcycle tarpaulin, we would like to summarize the most important key points here again.
Advantages of a motorcycle tarpaulin
Protects your motorcycle from dirt, scratches, rust and the weather all year round
Makes it harder to steal your motorcycle
Stable value retention from the motorcycle
privacy screen
Deter unauthorized persons from getting on the motorcycle
Disadvantages of a motorcycle tarpaulin
Cheap tarpaulins can damage the motorcycle (the paintwork, the rims and other components)
In summary, it can be said that a high-quality motorcycle tarpaulin simplifies life as a biker and can save a lot of trouble, money and time. Unfortunately, we ourselves have had many negative experiences with motorcycle tarpaulins since the beginning of our biker days and therefore decided in 2017 to develop what is probably the best motorcycle tarpaulin – from bikers for bikers!
We clarify: facts instead of fake news
Moisture under the tarpaulin: Probably the most discussed topic
The topic of "moisture under the tarpaulin" is a hot topic for bikers to discuss again and again in forums, blogs and videos. But what is right now? Is moisture under motorcycle covers normal? Is a cover then bad or unusable?
Now is the end of half-knowledge and assumptions: we clarify!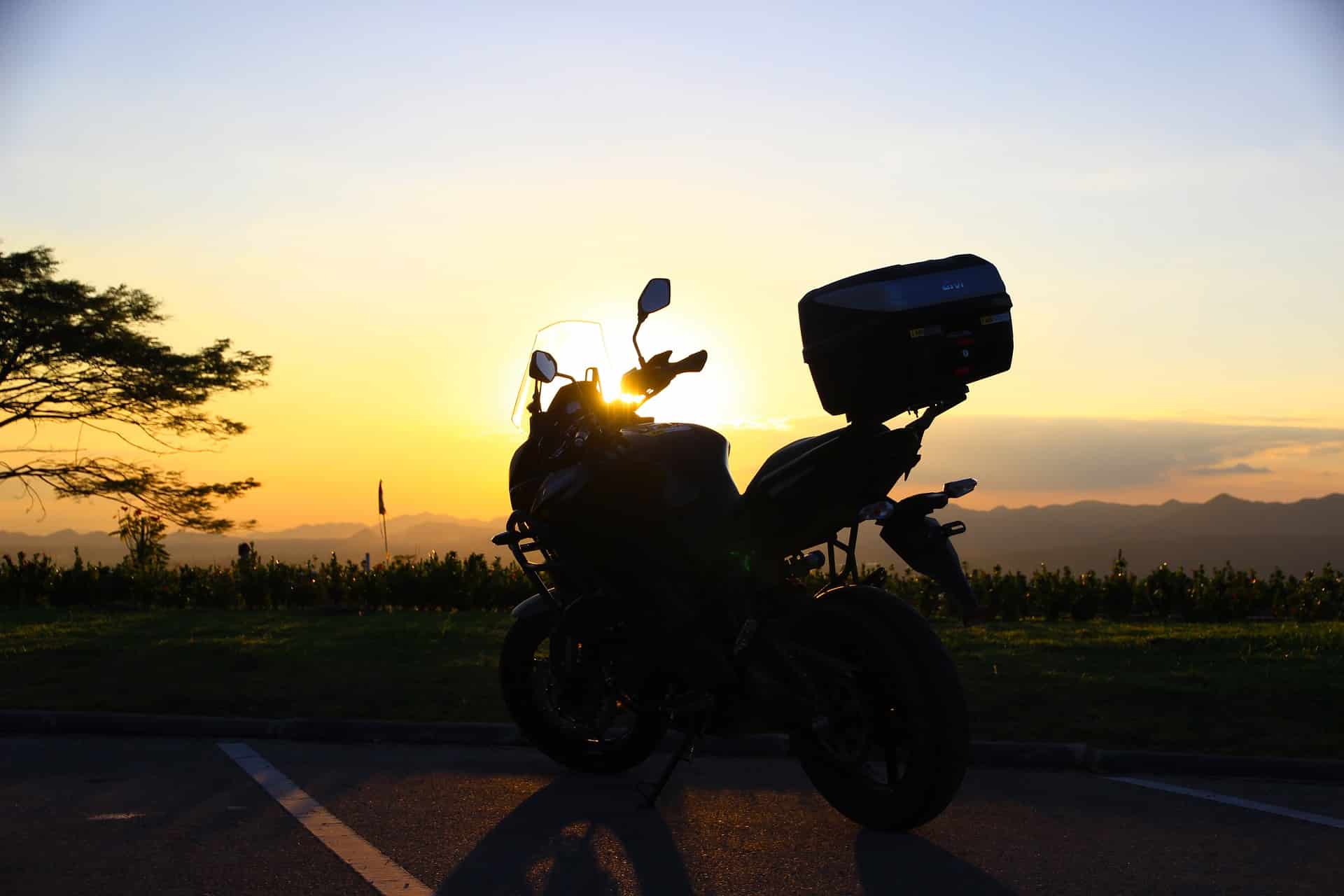 Example #1: The motorcycle tarpaulin and the morning after..
If your bike is left outside overnight, it cools down and the temperature of your motorcycle adapts to the ambient temperature. When the sun rises in the morning, the surrounding air is first heated, which means that there is a temperature difference between the cooler motorcycle and the warmer surrounding air. If the so-called dew point is reached, condensation forms on cold surfaces (also called condensation water or dew water). Since a motorcycle tarpaulin does not enclose the motorcycle 100%, this process naturally also takes place under the tarpaulin and condensation forms there too.
And now? What can or must I do?
Now the properties and functions of the tarpaulin are in demand! Your motorcycle – like the surrounding air – will continue to warm up and the moisture should then be removed as quickly as possible. As mentioned above, a tarpaulin needs good ventilation, for example through ventilation zones. If these are dimensioned correctly, there is a continuous exchange of air between the ambient air and the air under the tarpaulin, so that the moisture can be transported away quickly! Good tarpaulins have extra stabilized ventilation zones here in order to largely prevent the "ventilation ears" from closing unintentionally.
Example #2: Rain and the motorcycle cover
The more and the longer it rains outside, the higher the relative humidity rises. This can quickly rise to 100%, so that the so-called "water vapor capacity" is reached. If the saturation of 100% is exceeded, the excess moisture creates fog, for example.
Of course, this humid air also gets under the motorcycle tarpaulin after a certain time and the relative humidity on the motorcycle or under the tarpaulin increases.
"But then what's the use of a motorcycle tarpaulin?"
In short: a lot! When it rains, not a falling drop of water touches your motorcycle. If you don't use a tarpaulin, your entire motorcycle will be "under water" within a few minutes and will not be protected. Even if it rains heavily and for a long time, the humidity under the tarpaulin increases, but your motorcycle is protected from the falling rain. This not only has a very positive effect on value retention, but also saves you from wet jeans or slippery grips as soon as the rain shower is over and you want to get back on the motorbike!
Cleaning the motorcycle tarpaulin
A high-quality tarpaulin is usually additionally coated on the outside so that water rolls off easily and dirt cannot settle so easily.
This of course destroys the coatings and properties of the motorcycle tarpaulin and should not be done under any circumstances. Normally, a tarpaulin is only slightly soiled from the outside, eg by dust, bird droppings or light dirt. Here we recommend lukewarm water and a soft microfiber cloth, with which the tarpaulin can be cleaned in no time at all. For all bikers who also have problems with tree sap, pollen and the like, we recommend a motorcycle tarpaulin cleaner.
Attention: Material coatings can be damaged by heavy scouring and scrubbing, therefore only clean carefully and only use the recommended materials for cleaning!
We clarify: What size motorcycle tarpaulins do I need?
There is a multitude of different motorcycle models: retro bikes, modern classic, sports bikes, sports tourers, tourers, naked, choppers, cross bikes, etc.. In addition, new models come onto the market every year and the Dimensions can change within the model series.
In addition, the motorcycle tarpaulins from different manufacturers usually have different lengths, heights and widths. So this question cannot be answered in general.
We ourselves have listed more than 1,000 different motorcycle models in our size recommendation. We continuously update this list and are always happy to receive feedback from our customers. Feel free to look for your model and if you can't find it, we look forward to hearing from you!
For size recommendation:
Time for questions and comments
We hope that we were able to answer your questions about "motorcycle tarpaulin"!
Before you contact us, please check if there is already a current recommendation for your bike: > Here to the size recommendation <
We are available for you by WhatsApp (by chat) and by email. Please do not double request, we will reply within 48 hours:
I wish you best greetings from the beautiful north
Benjamin (motorcycle salesman) and Constantin (engineer)
Passionate bikers and founders of MYCOVER® – Protection at its finest