Over 1300 size recommendations
Find the right tarpaulin size in three easy steps
If your model year is not on the list, select the motorcycle model of the same type. If the size does not fit, we will of course take the product back or exchange it.
Fill in the fields above to receive recommendations
Instructions: correctly measure the motorcycle and find the right cover size

If your bike is rebuilt or you couldn't find it in our size recommendations, use our step by step guide to find the right cover size by measuring your bike.

Attention! Accessories such as tank bags, side cases, exhaust systems, footrest extensions, booster seats, crash bars, crash pads, axle protectors and similar conversions, fit under the cover.

Correctly measure the motorcycle

The official specifications of the manufacturers are always without license plate holder, mirrors and without windshield.

Better measure yourself to be on the safe side!

Here's how you do it:

Step 1: Position the motorcycle correctly

Place your motorcycle on the side stand and not on the main stand so that the rear height can be measured correctly.
Straighten the handlebars. Use a wedge or hammer on the tire as a fixation if necessary

The whole thing should then look something like this:

Step 2: Measure motorcycle correctly

Now measure and write down the following dimensions of your vehicle:

Maximum length
Maximum front width (handlebar or mirror)
Maximum front height (mirror or pane)
Rear height (incl. sissy bar, topca carrier etc.)
Rear width (only relevant for choppers – please measure the side license plate holder as well)

When measuring the height values, make sure that the folding rule and the vehicle are positioned perpendicular to the ground. Small tip: If you sit on the vehicle or hold it straight, you can measure more easily.

Use the charts below to guide your measurement. Hold your folding rule at the same angle as the marks positioned on the diagrams.

Then use the following tables to find the right size.

Step 3: Compare your measurements with the MYCOVER® motorcycle cover dimensions

Tip: The dimensions given in the tables are the maximum dimensions of our products.

Notes:

Length/front width: Your measurements must be smaller than the values given in the table.

Height front/rear: Your measurements should be equal to or greater than the values given in the table.

Sizes for Tourer, Sportsman, Topcase (TC) etc.

| Size | Length | Front width | Front height | Height tail | Max tail width |
| --- | --- | --- | --- | --- | --- |
| S | 205 | 90 | 120 | 85 | 85 |
| M | 215 | 95 | 120 | 100 | 85 |
| M+ | 215 | 95 | 130 | 90 | 85 |
| M+ TC | 215 | 95 | 130 | 115 | 80 |
| L | 235 | 100 | 120 | 100 | 90 |
| L+ | 235 | 100 | 130 | 90 | 90 |
| L++ | 235 | 100 | 145 | 95 | 90 |
| L+++ | 235 | 100 | 160 | 95 | 90 |
| XL | 245 | 110 | 135 | 100 | 105 |
| XL+ | 245 | 110 | 145 | 100 | 105 |
| XL+ TC | 250 | 115 | 145 | 140 | 105 |
| XL+ GT | 255 | 110 | 145 | 100 | 120 |
| XL+ GT +TC | 255 | 115 | 145 | 100 | 120 |
| XL++ | 245 | 110 | 160 | 100 | 105 |
| XXL | 260 | 115 | 150 | 90 | 125 |

All dimensions in cm, dimensions of the transport bag: 38x10x30cm

---

Chopper sizes

| Size | Length | Front width | Front height | Height tail | Max tail width |
| --- | --- | --- | --- | --- | --- |
| C-L | 245 | 110 | 110 | 65 | 75 |
| C-L+ | 255 | 110 | 125 | 65 | 75 |
| C-L++ | 255 | 110 | 140 | 65 | 75 |
| C-L+++ | 255 | 110 | 155 | 65 | 75 |
| C-XL | 260 | 110 | 115 | 65 | 85 |
| C-XL+ | 260 | 110 | 130 | 65 | 85 |
| C-XL++ | 270 | 100 | 145 | 70 | 85 |
| C-XXL-C | 270 | 110 | 150 | 85 | 85 |

All dimensions in cm, dimensions of the transport bag: 38x10x30cm

Unsure which size fits your bike? We are happy to help you and here you can reach us: Contact.
The second skin for your motorcycle
MYCOVER® Premium motorcycle covers
Exclusive outdoor quality • Handmade • Tear resistant • Waterproof • Can be used all year round • Perfect fit
Easy and fast size selection
Size recommendations for more than 1300 models
Over 15 intermediate sizes for all types of motorcycles
Premium quality without compromise
Like thousands of other bikers, trust MYCOVER®
"Ein sehr robustes und reißfestes Material: Nach über 2 Jahren Dauereinsatz keine Risse, UV-Schäden, oder ähnliches. Definitiv kein Vergleich zu meinen bisherigen Abdeckplanen!"
"Endlich eine wasserdichte Motorradplane die wirklich schützt. Auch nach mehreren starken Regenfälle keinerlei Probleme. Absolut Top!"
Why MYCOVER®?
Developed by bikers for bikers
Fed up with constantly torn motorcycle covers, we decided in 2018 to develop for our own bikes THE premium cover.
Today, together with our biker community, we develop custom-fit outdoor motorcycle covers for all manufacturers and models.
Our partners
Problems of our biker community
Typical problems with motorcycle "covers"
Material breakage after a short time – Can cause damage & loss of value to the motorcycle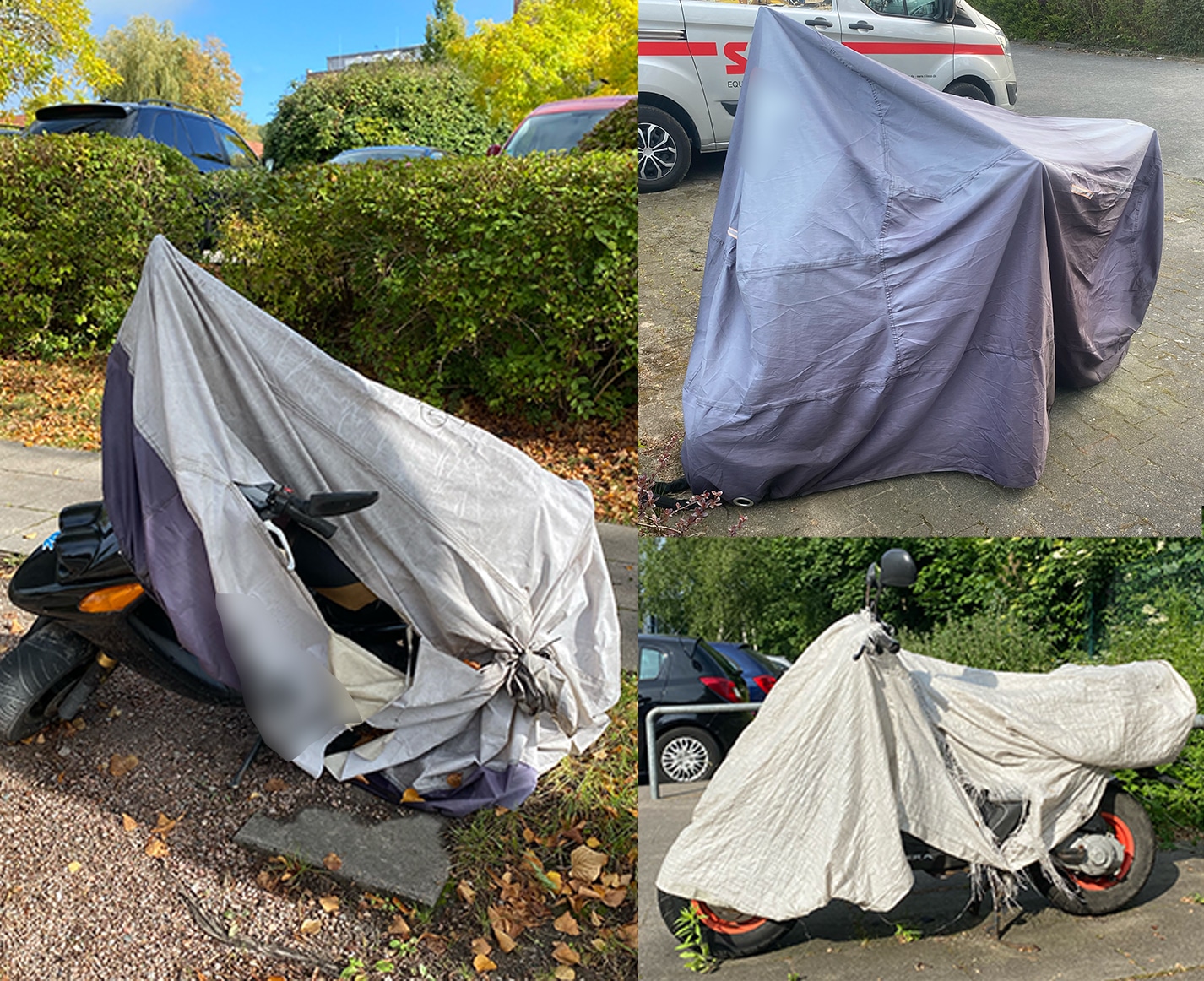 Material breakage due to frost and UV damage. Seams tear due to poor workmanship and inferior material.
Poor fit, lies on the damp ground and flutters strongly in the wind. Attention: Danger of overturning!
Defective electronics, including safety-relevant components. In addition, rust and mold due to standing moisture.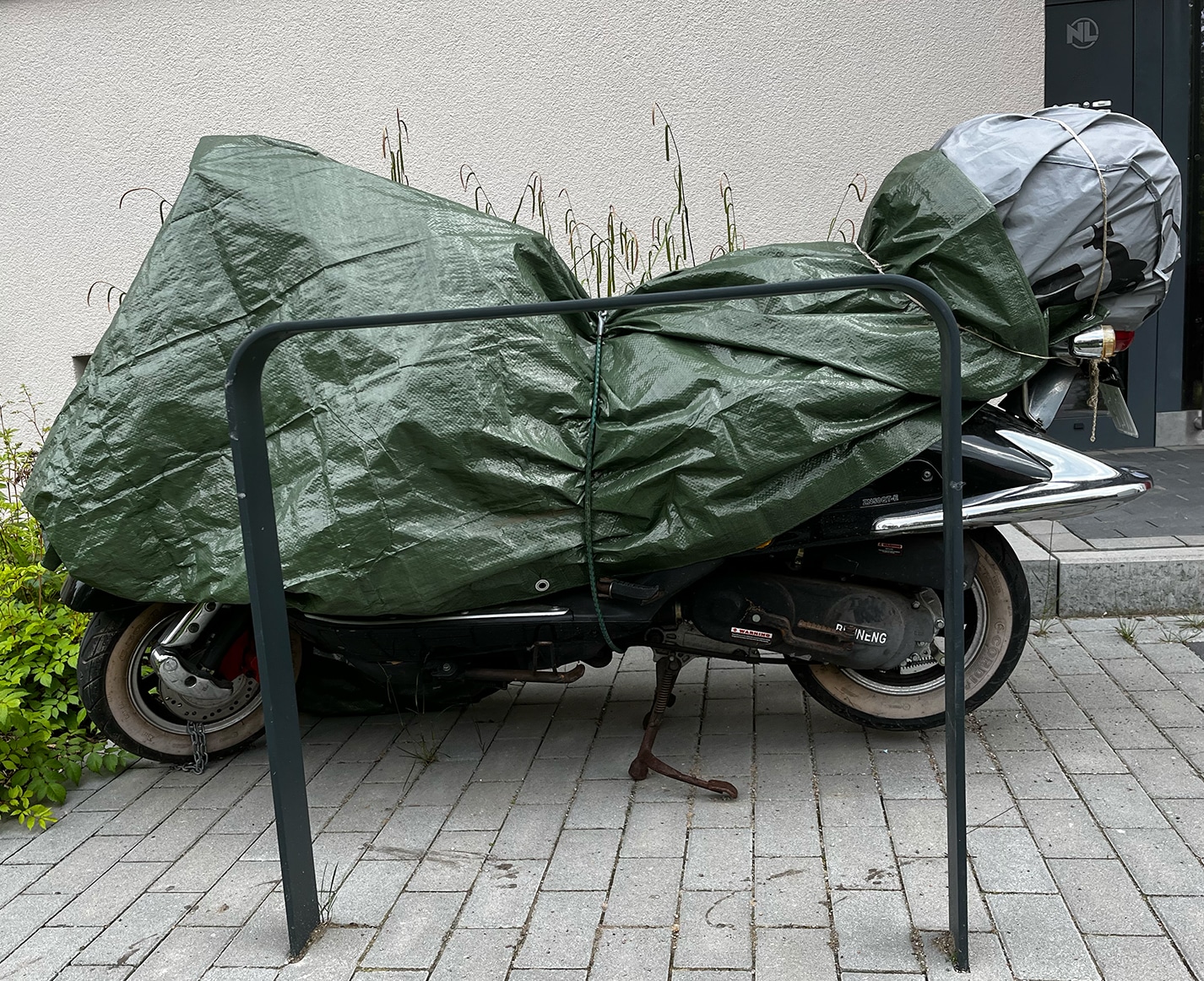 Simple rain tarp, neither fit nor breathable. Definitely not suitable for outdoor use!
For your motorcycle no compromise!
Choose exclusive motorcycle protection
Our motorcycles deserve real long-term outdoor protection! That is why we have combined special outdoor material with our best features:
Exclusive outdoor material
Waterproof and breathable for maximum value retention
Strong all weather protection
UV resistant and weatherproof with double nano coating
100% Resistant
Scratch & tear resistant 300D material with extra reinforced double seams
Handmade & sewn
From experienced employees for long-term value retention
Optimal fit
No flapping due to perfect fit sizes with elastic hemline
Protects the paint permanently
Special scratch protection with extra soft inner fleece
Additional heat protection material
Reduces the risk of heat damage (up to approx. 200°C)
Protects your exhaust
In the lower area of the manifold up to the end muffler
Double ventilation zone
At the level of the exterior mirrors to allow moisture to escape effectively
Optimal air circulation
Prevents waterlogging and helps prevent rust
Bright reflectors
Discreetly finished in the seams in a striking design
360° visibility at night
For optimal reflection from all sides
Reinforced lock openings
Without rubbing plastic or aluminum rings protect your rims and paint
Theft protection on both sides
Depending on the parking situation, attach the lock to the front or rear wheel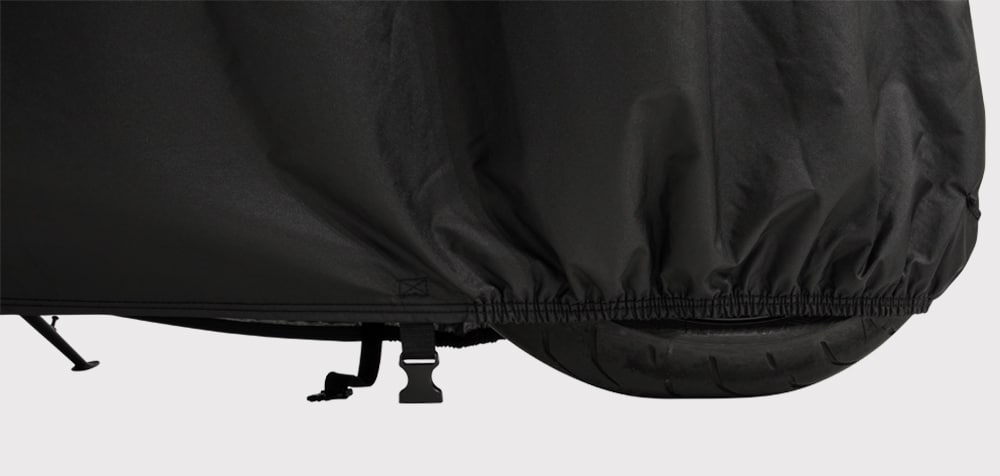 2x Sturdy safety belts
Securely fix the tarpaulin to the motorcycle
Protects sensitive components
By minimizing the susceptibility to wind and friction on the coating
license plate window
Approved according to § 10 ABs. 2 GZV and § 23 para. 1 StVO
For each parking lot
Suitable and no more towing or parking ticket
Experience the MYCOVER® quality
Probably the last cover you'll buy!
Optimal fit for your motorcycle
New: Intermediate sizes for all motorcycle types
Tourer • Chopper • Supersports • Naked • Enduro • Scooter
Tourer: BMW R 1200 RT
Chopper: Harley Davidson Super Glide
Super sports car: BMW S1000RR
Naked: Yamaha XSR700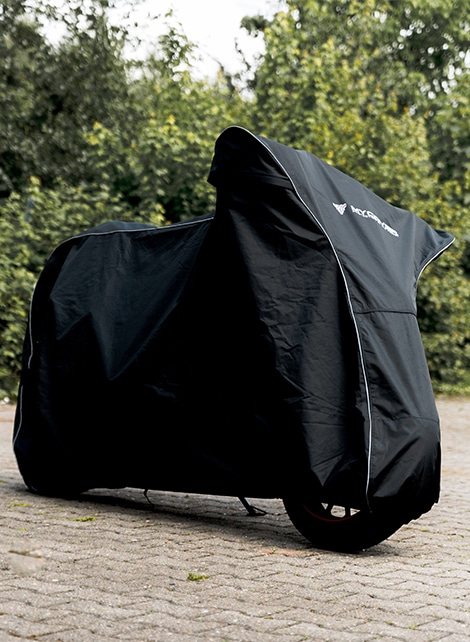 Enduro: Ducati Hypermotard
Scooter: Vespa GTS 125
Choose MYCOVER® now
Your bike deserves more than a cheap cover!
Additional information
Frequently asked questions about the MYCOVER® Outdoor Motorcycle Cover
Which motorcycle cover size is right for my motorcycle?

My motorcycle is not rebuilt:

We have measured for you and you will find the right size recommendation in our size chart for over 1,300 different motorcycle models.

We have size recommendations for:

Standard (factory / original condition)
Topcase
Side case
Side Case & Top Case
Short license plate holder
Short mirrors
Short license plate holder and short mirrors
High front window

If your bike is not in the list or you have questions about the right size selection: With our personal customer support from bikers for bikers we are happy to help you!

My motorcycle is rebuilt:

If you have modified the original condition of your motorcycle, it may be that you need a different cover size – than indicated in the size recommendation – depending on the type of modification.

Feel free to use the size recommendation in the table as a reference and then see what dimensions have changed with your conversions.

How to measure your motorcycle correctly in three simple steps, we show you here: Measuring a motorcycle correctly

For questions about measuring or general questions, feel free to contact us by email, What's App, or phone.
Why does the MYCOVER Premium Outdoor Motorcycle Cover cost more than other covers?

To answer the question in a nutshell:

Because other motorcycle covers often offer you only a basic rain protection with many compromises and disadvantages!

Our own experience with other motorcycle covers:

Due to our living situation, our first motorcycles had to be parked outside all year round, which is why we absolutely wanted to protect them with a cover tarpaulin to preserve their value: Within only 3 years we have worn out – inconceivable – 9 different motorcycle cover tarpaulins.

As we unfortunately had to find out ourselves, the tarpaulins on the aftermarket often offer only a temporary basic rain protection and (probably for cost reasons) many necessary functions have been skimped on. In the process, we bought not only the tarpaulins of well-known brand manufacturers, but also the so-called "test winners" and "best sellers":

The result was simply disappointing for us after just a few weeks!

After only a short use, the seams often came loose, the fabric tore, mold on the inside, metal rings caused scratches in the paint and because of the poor fit, the first rust appeared due to standing moisture … One thing we can tell you: This issue has cost us not only unnecessary money, but also a lot of time and nerves!

After talking to biker friends about our experiences, we then quickly realized that we were not alone with this problem.

This is definitely not how we had imagined it for our motorcycles and this is where we had to act!

After almost two years of development, we had then developed an outdoor tarpaulin for our motorcycles without compromise: We have explicitly chosen outdoor fabrics that have been tested for many years and are extremely durable, which are additionally refined with a double nano-coating.

Carefully hand sewn, the unique and distinctive design of the MYCOVERmotorcycle cover is created. One of the design highlights are the reflective stripes that are elaborately incorporated into the seam and run around both sides, which provide reliable 360° visibility protection, not only at night.

With the MYCOVERoutdoor tarpaulin you don't get a basic rain cover, but an exclusive motorcycle tarpaulin with over 10x functions, which are the basic prerequisite for optimal value retention and theft protection.

Special bikes deserve special protection!

MYCOVER- Protection at its finest
New equipment for chopper sizes (C-…)

We took your feedback into account when developing the chopper sizes!


Exclusively soft inner flow and no heat protection material:

In order to protect your partly very sensitive special paints and also e.g. powder-coated exhaust systems even better from scratches, we have dispensed with the internal heat protection in the lower area of our Chopper Outdoor tarpaulins and equipped the Chopper Outdoor tarpaulins exclusively with our soft paint-protecting inner flow.


Extra pockets (4x) on the inside for the safety straps:

To protect your special paint even better when putting on the cover, you can now safely store the safety straps in specially made pockets on the inside of the cover and close them with Velcro. More protection for your paint really does not go! After pulling up, you can then drop the safety straps by simply loosening the Velcro from the protective bags again and additionally fix the tarpaulin if necessary.


Extra openings (2x) for your battery charging cable:

Due to the use of alarm systems, the battery of chopper motorcycles must be charged frequently. For this purpose, we have made 30cm long and reclosable openings for your battery charging cable on the right and left side, each at the height of the battery. Charging your battery with the MYCOVER cover has never been so easy!
Why does a motorcycle cover need a license plate window?

AFTER § 10 ABs. 2 GZV and §23 par. 1 StVO, a viewing window for a motorcycle cover is mandatory and is subject to warning in case of non-compliance. Better buy a motorcycle cover with a window for the license plate and save the money of a warning for a tour with your friends!
Does an outdoor motorcycle cover protect against theft?

More than 20,000 two-wheelers are stolen in Germany every year…

The MYCOVER® motorcycle cover not only protects from prying eyes, but is also equipped with two security openings each at the front and rear wheel for the use of your motorcycle lock. Combine your new MYCOVERoutdoor motorcycle cover with a high-quality ABUS lock, for example, and this combination offers you excellent theft protection and guarantees quieter nights.
Does the motorcycle cover protect against scratches?

The soft inner lining of the MYCOVER® cover minimizes scratching and contributes to the best possible value retention of your motorcycle.

Our recommendation: Before you use a motorcycle cover, your motorcycle must be clean (no sand, oil or other dirt, etc.).

Due to the resulting friction when pulling on the motorcycle cover or due to the movement caused by the wind, a dirty motorcycle may cause unintentional damage to paint, plastic parts, mirrors, rims, etc. or damage to the cover. Therefore, clean your motorcycle regularly and look forward to a long shining paint and an optimal value retention.
What is the best way to put the motorcycle cover on the bike?

Step 1: Raise front

Align the fully spread motorcycle cover according to the vehicle.
Starting with the front, slip the motorcycle cover over the mirrors and handlebar ends over the front fairing.
Pull the motorcycle cover apart by the handle at the bottom hem (left and right of the reflector strip) and pull it completely down over the front wheel.

Step 2: Put motorcycle cover over the seat

Spread the rest of the motorcycle cover over the vehicle (place over the seat).
Go to the rear of the vehicle.

Step 3: Cover up to the tail

Pull the motorcycle cover apart by the handle at the bottom hem (left and right of the reflector strip).
Put the tarpaulin completely over the license plate and the rear tire.
What prevents the outdoor motorcycle cover from being blown away by the wind?

Due to the two safety belts of the MYCOVER® motorcycle cover (in front of the rear wheel and behind the front wheel), the fabric adapts perfectly to the shape of your motorcycle.

A good fit not only looks visually much better and prevents the annoying fluttering in the wind, but also ensures a minimization of wind susceptibility (danger of tipping over by wind), as well as less friction on your motorcycle.

Only a properly fitting motorcycle cover can protect your bike in the long term!
How do I properly care for the motorcycle cover?

Important not to damage the double nano-coating of the motorcycle cover: No cleaning agents or similar should be used for cleaning.

We recommend wiping the motorcycle cover with lukewarm water only.

The outdoor motorcycle cover must not be left on the ground to dry.
We recommend using two outdoor chairs or a long clothesline.
Improper drying, e.g. using clothespins (sharp edges), a dryer or similar can damage the motorcycle cover. Be careful when cleaning the license plate viewing window (prone to scratching).
How do I get the outdoor motorcycle cover back neatly into the transport bag?

The scope of delivery of the motorcycle cover includes a transport bag.

Before the motorcycle cover can be stored or transported, it must be completely dry and clean.

Dirt and moisture can lead to the formation of mold or damage to the cover or packaging. Do not fold or bend the cover at the license plate window or ventilation ears as irreversible damage may be caused.

Our recommendation: When folding the cover for the transport bag, you should start with the license plate window so that it does not get bent in the transport bag:
What should I look for when comparing outdoor motorcycle covers?

To protect against rust, outdoor tarpaulin should be not only waterproof, but also breathable.
Make sure you have adequate UV protection to keep the plastics, rubber components and paint from fading.
For protection in winter and summer, the material must be cold and heat stable.
To protect the paint from bumps and scratches, look for a durable material with an adequately lined, cotton-like inner fleece.
AFTER § 10 ABs. 2 GZV and §23 par. 1 StVO, a license plate window / viewing window is mandatory and is subject to warning in the event of non-compliance. Better save the money for a tour with your friends!
Make sure that the motorcycle cover is dirt resistant. For example, through a coating. This additionally protects the value retention and facilitates cleaning.
Even with a cover, your motorcycle must be clearly visible to other road users. Reflectors or reflective fabrics significantly support visibility at night!
Make sure it fits well, e.g. with an elastic hem, to minimize wind exposure and friction between the cover and the motorcycle.
Look at additional fuses against wind. For example, by means of safety belts or other holders.
A properly positioned heat shield material can not only protect against a warm exhaust or engine, but also significantly reduce moisture absorption from the ground.

We recommend using a tarpaulin not only for outdoors. Also in the garage, underground garage or carport, this reliably protects against dust, dirt, scratches and bumps.

Don't save at the wrong end!
I want to protect my motorcycle as best as possible with a motorcycle cover. What should I pay attention to?

We have been dealing for several years (professionally and privately) with the value preservation and theft protection of our motorcycles.

We firmly believe that a high-quality motorcycle cover can reliably protect your motorcycle in any parking situation. In our motorcycle tarpaulin consultant to maintain value have compiled all our knowledge for you.
For more information, please refer to the user manual and safety instructions (PDF) for our outdoor motorcycle cover.
Personal advice from bikers for bikers
Before you contact us, please check if there is already a current recommendation for your bike: > Here to the size recommendation <
We are available for you by WhatsApp (by chat) and by email. Please do not double request, we will reply within 48 hours:
---