The motorcycle lock consultant: Find the right motorcycle lock for you and your motorcycle
Why do I need a motorcycle lock?
It's every biker's nightmare and unfortunately commonplace. Motorbikes are carried away, thrown onto mats in vans and disappear in just 30 seconds.
It's unimaginably hurtful when your motorcycle suddenly isn't where it was supposed to be safely parked a few minutes ago.
Around 20,000 motorcycle thefts are registered in Germany every year, i.e. 54.8 motorcycle thefts a day. In 2010 there were still over 40,000 motorcycle thefts. With only 150,000-180,000 new registrations and 4.3 million existing motorcycles in Germany, this is not a low number.
Unfortunately, the steering wheel lock on the motorcycle is not enough to protect your motorcycle from theft in the best possible way.
Motorbike thieves either break the steering wheel lock within a few seconds with a simple lever, or have two people lift the motorbike and carry it away.
A professional motorcycle lock is needed! But which motorcycle lock is best for you and your motorcycle?
Which motorcycle locks are there?
Heard the motorcycle locks
There are various motorcycle locks of different brands on the market, which can be used as anti-theft protection for your motorcycle.
There would be, for example, the chain lock, folding lock, U-lock, or the brake disc lock and they all have different security levels, which we will look at in more detail later.
For bikers who are a bit lazy to read, here is a quick overview of the important information about motorcycle locks.
Important brief information about motorcycle locks
Every motorcycle lock can be cracked and therefore the material and design are the most important points of a motorcycle lock.
It has to be robust says the pro!
It is best to use hardened materials such as steel. The thicker a lock is, the more resistant it is. But be careful, the design is also important. A large piece of metal is more difficult to crack than small pieces or simple cables.
Joints on motorcycle locks are points of attack and should therefore be of very high quality. The ends on the motorcycle locks must also be well secured.
Everything that thieves have to cut away and cannot just pry open increases the time required and thus helps proactively to prevent your motorcycle from being stolen.
Big issues with motorcycle locks are weight and bulk.
The heavier a lock is, the heavier it is, but it is also more secure. A large lock circumference means better handling in terms of "more flexibility when connecting your motorcycle", but unfortunately also more weight for transport.
Too much lock circumference also makes the work of motorcycle thieves a little easier, as there is more surface area for professional tools to attack.
If the lock is very short, thieves will again have problems handling bolt cutters and other tools. It's also good if the keyhole points downwards and doesn't make it easier for the thief.
But what does that mean for the different motorcycle lock variants?
Quick understanding of the motorcycle lock variants
Thick U-locks are the most secure, are difficult to cut through and, due to their small circumference, offer less attack surface. However, they are often heavy and bulky.
Solid folding and chain locks have a high level of theft protection, are somewhat more flexible than U-locks but are also often heavy.
Thin folding and chain locks offer too large a target and should not be used to permanently secure your motorcycle in problem areas. But they are more flexible than massive folding and chain locks.
Frame and cable locks are generally not recommended at all and only serve as a small immobilizer against casual thieves without bolt cutters, who just want to jump on your motorcycle and run away with it. But they are still the handiest locks.
If you still want the advantage of a cable lock, you can use an armored cable lock. An additional steel shell offers additional protection. But keep in mind that key locks are more secure than combination locks.
Summary of "Know How" motorcycle locks
So now we know that a balance of material, weight, and size is necessary so that the motorcycle cannot be stolen within a few seconds. But it should also be a bit handy and a well-lit parking lot deters many thieves. In addition, a motorcycle should never be left unconnected – to a non-moving object.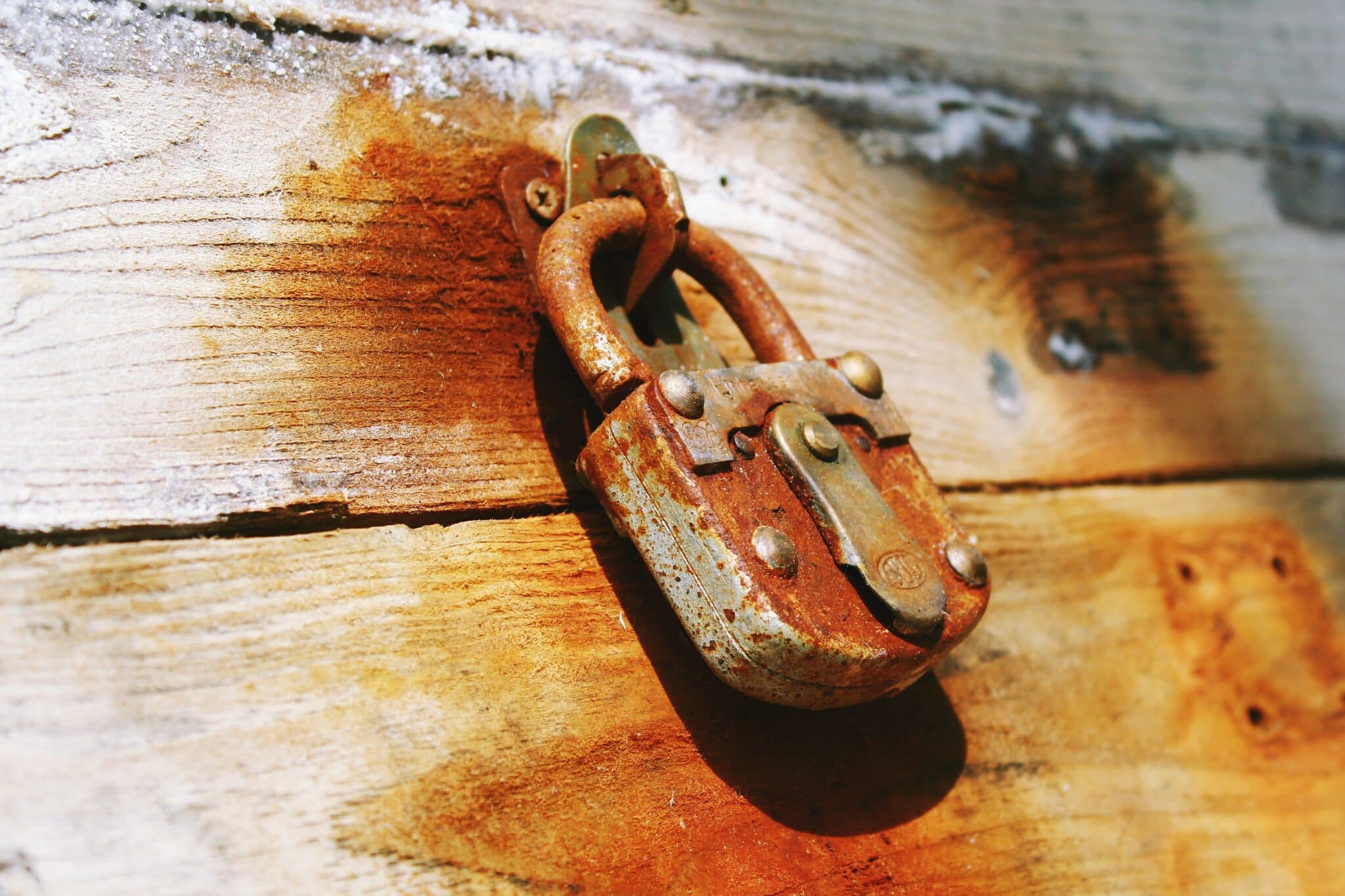 What are the weaknesses of a motorcycle lock?
Surely you know thin and thick motorcycle locks, simple keys for a motorcycle lock and complex security keys or security cards for locks and motorcycle lock systems. The weaknesses of a motorcycle lock always depend on the respective lock and its security level. At first glance, it is not easy to keep track of things.
Hardened chain locks with coating are quite safe, as they have a smaller surface for thieves to attack.
U- locks , for example, can protect your motorcycle very well against theft, but are quite bulky and can only be picked at the lock hole.
A combination of chain lock or U-lock and ground anchor are among the best ways to protect your motorcycle from theft.
The little tricks of the motorcycle thieves, for example with ice spray, don't help and without professional bolt cutters or the flex, no theft can simply take place here.
Even the good old tank cracker trick from TV, cracking your motorcycle lock with a paper clip, cannot be implemented with our ABUS locks. The best motorcycle locks actually no longer allow this type of motorcycle theft.
In which situation do I need which motorcycle lock?
Below you will find an overview of the new motorcycle lock types, their preferred area of application, as well as a lot of other helpful information on handling a motorcycle lock: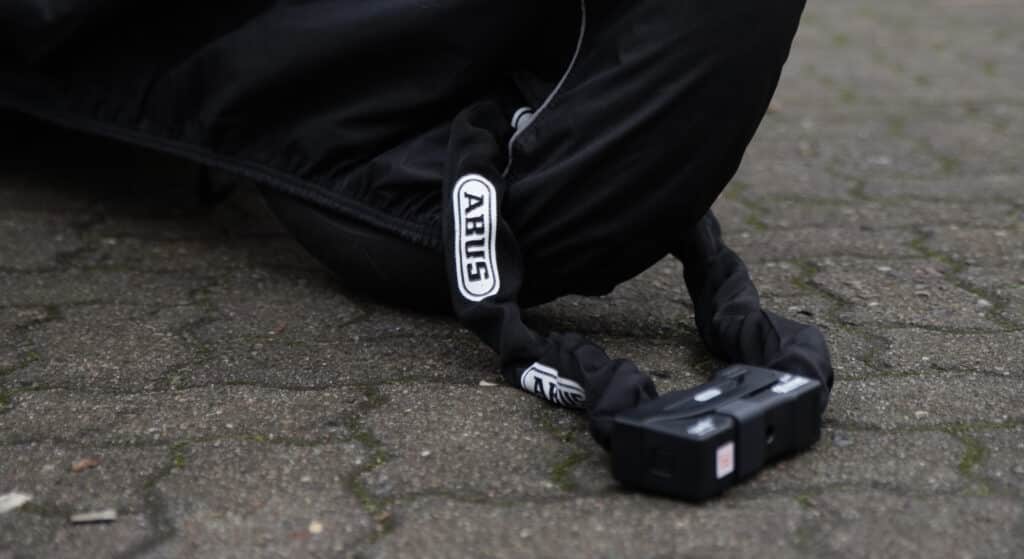 The motorcycle locks explained in detail
What should I look out for when buying a motorcycle lock?
Pay attention to the material, the material thickness in "mm" and the closure variation. Above all, keep an eye on the safety level, the type of structure and your own parking situation .
This is how you make the right choice.
How much does a motorcycle lock cost?
In terms of price, the situation is similar to that of motorcycle protective equipment: Anyone who goes bargain hunting here either buys twice or has to live with the mostly negative consequences – a stolen motorcycle.
Roughly speaking, you can get motorcycle locks that are really made to protect motorcycles and not just for bicycles for between €139 and €350. Depending on the protection class and combination of lock units.
In which parking situation do I need which lock?
What lock do I need when parking my motorcycle outside by a lamp post? Do you have a motorcycle parking area where you can lock your motorcycle to a pole or fix it to the ground? Do you just park on the street or in a locked lot? Do you travel a lot with your motorcycle and maybe you need a portable motorcycle travel lock? Here you will find our motorcycle expert tips on how to best protect your motorcycle against theft.
Situation 1: I park my motorcycle in the garage
A ground anchor and chain or U-lock are of course predestined here, as you can drill a hole in the ground or in the wall fairly quickly and the anchor is mounted quickly.
If you don't have permission to do so, you can of course simply use a brake disc lock with an alarm, or use a chain lock or U-lock.
Since the garage is the first hurdle for a thief, depending on how secure the garage is, simpler motorcycle locks are sometimes sufficient. Note, however, that for experienced thieves, breaking into a garage is usually not an insurmountable obstacle. Reliable anti-theft protection also makes sense in your own garage!
A brake disc lock with an alarm in a well-insulated garage may under certain circumstances not do as much as an alarm function would suggest. While 100Db outdoors is enough to draw a lot of attention, it can be fairly well isolated from the outside noise-wise in the garage. This is the reason why an alarm system alone is not so advantageous after all.
If the thief in your garage has to get at your motorcycle lock with a flex instead, he will think twice about it and will most likely stop stealing your motorcycle.
Our castle recommendations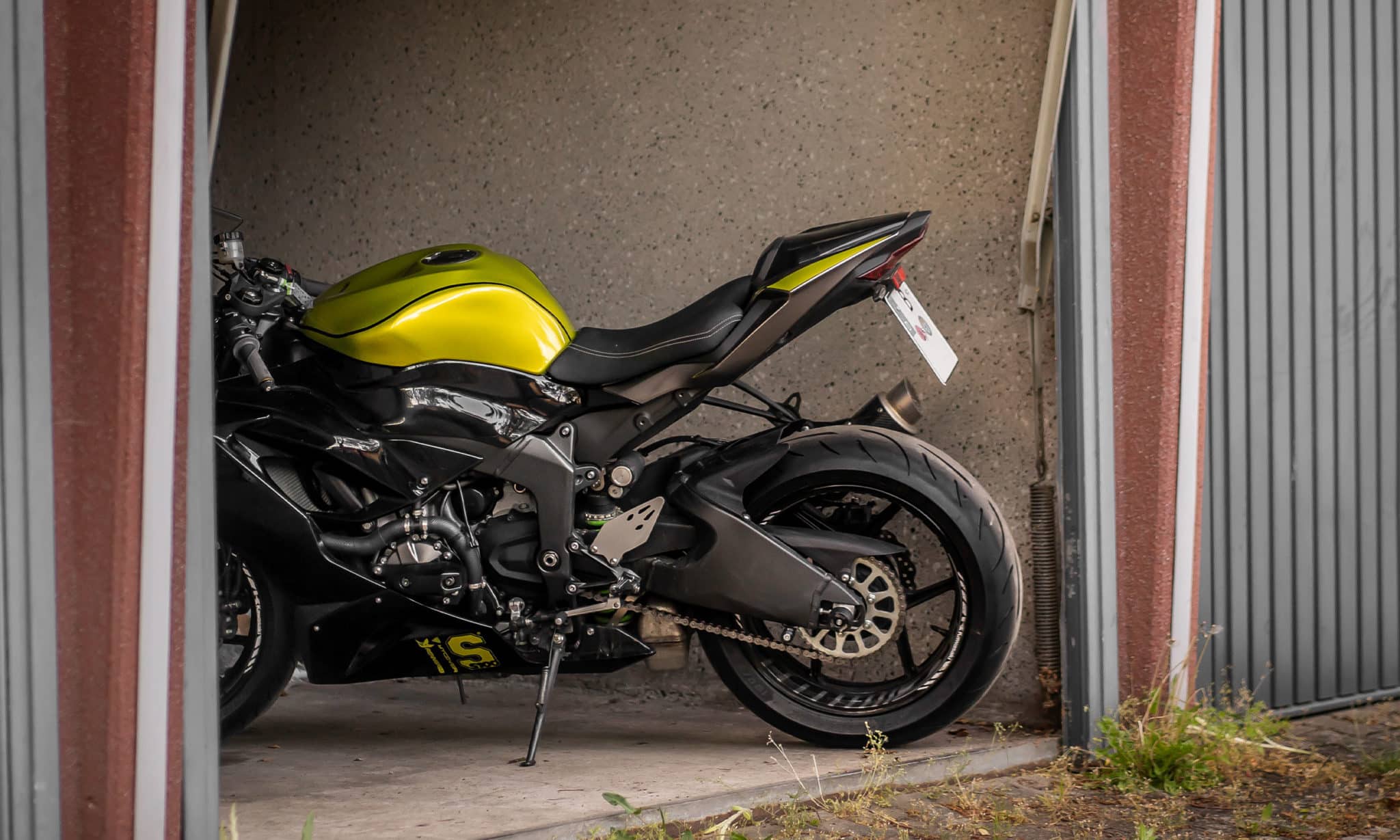 Situation 2: I park my motorcycle in a carport
Here we recommend a ground anchor and a chain lock combination of brake disc lock with alarm, because you are outdoors here and such a loud and fast-acting alarm can be distributed really nicely.
Our castle recommendations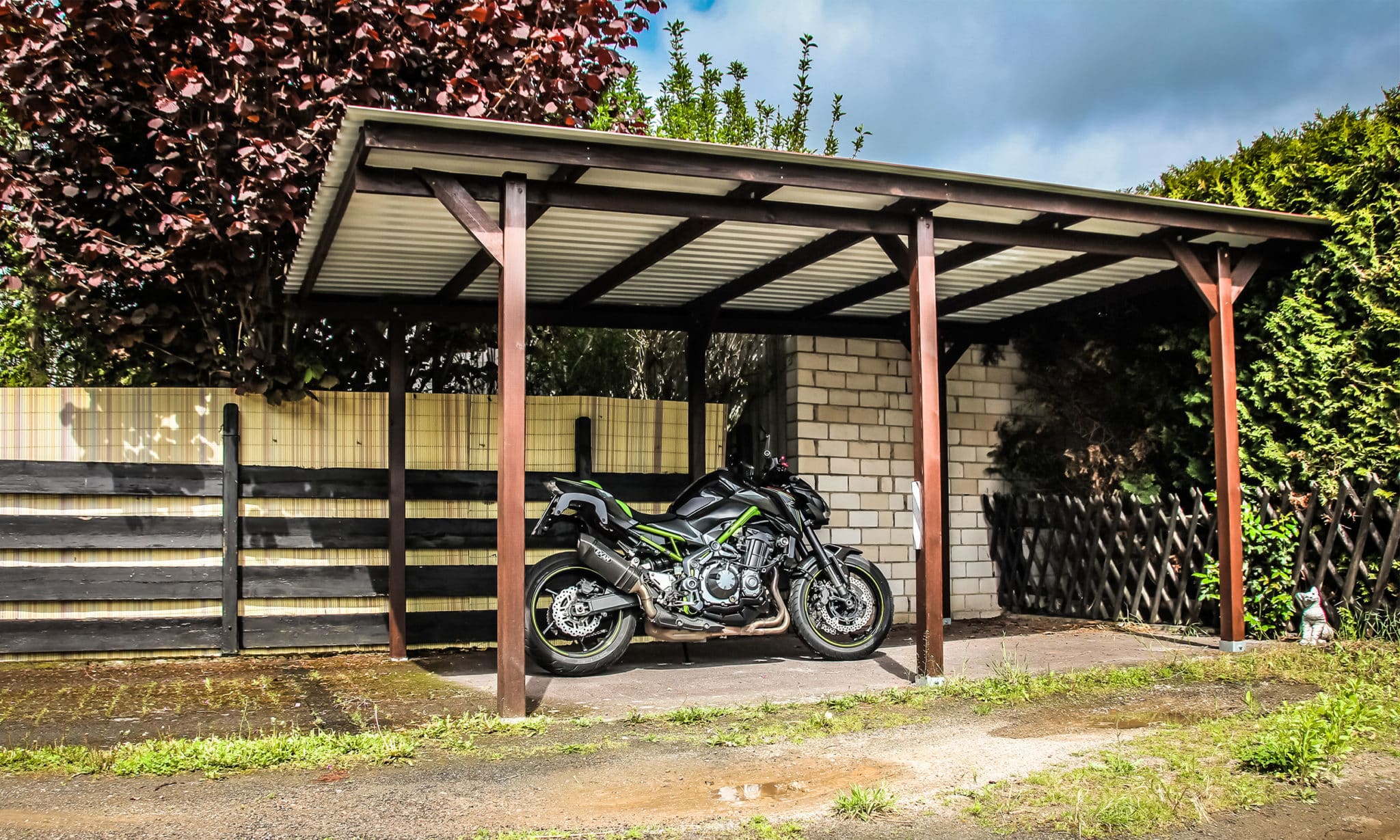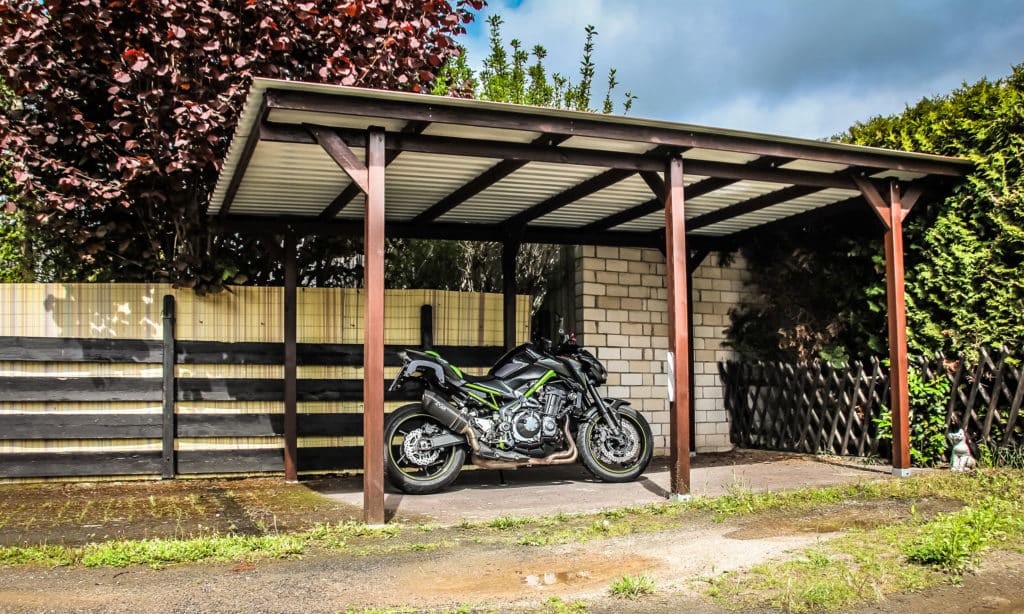 Situation 3: I park my motorcycle on my property
Here, too, we recommend a ground anchor with chain lock combination, a brake disc lock with alarm or, for example, a U-lock. Depending on the location of the property and where it is parked on or behind your house, the alarm can go unnoticed. Then we recommend expanding the combination to a U-lock or a massive chain, which then has to be flexed open by the thief. Getting the motorcycle off the property unnoticed is much more difficult for the thief and provides a good deterrent.
Our castle recommendations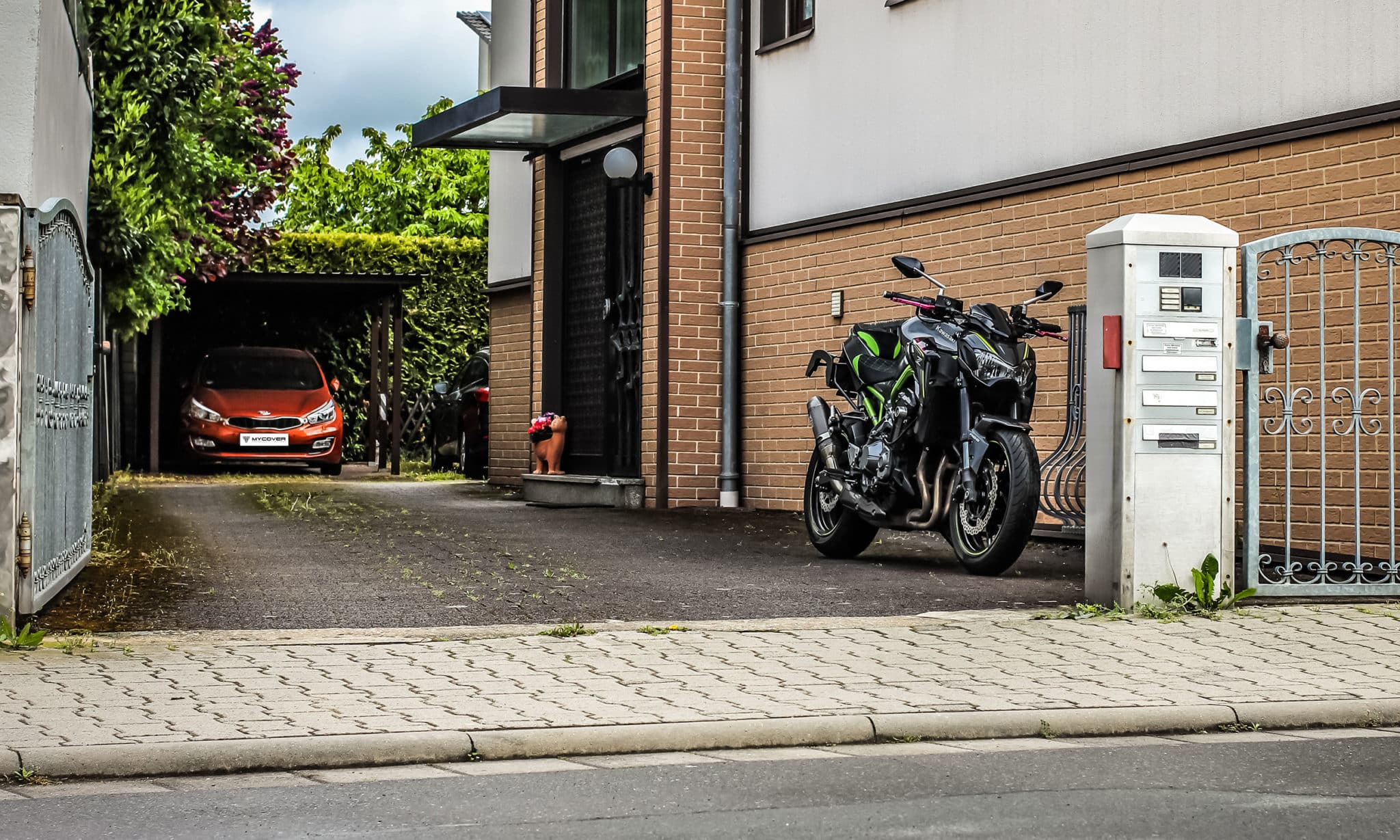 Situation 4: I park my motorcycle on the street or sidewalk
If possible, use a chain, chain lock combination or U-lock and look for a solid object to connect it to. If you have problems with the transport, use a brake disc lock with alarm to ensure maximum attention.
The experiences of the police show that mostly the motorcycles and bicycles are stolen, which have a worse lock than the neighboring bike. So look what the others are doing. Note that a motorcycle can be stolen most quickly on the street if it is not locked to a fixed object.
Our castle recommendations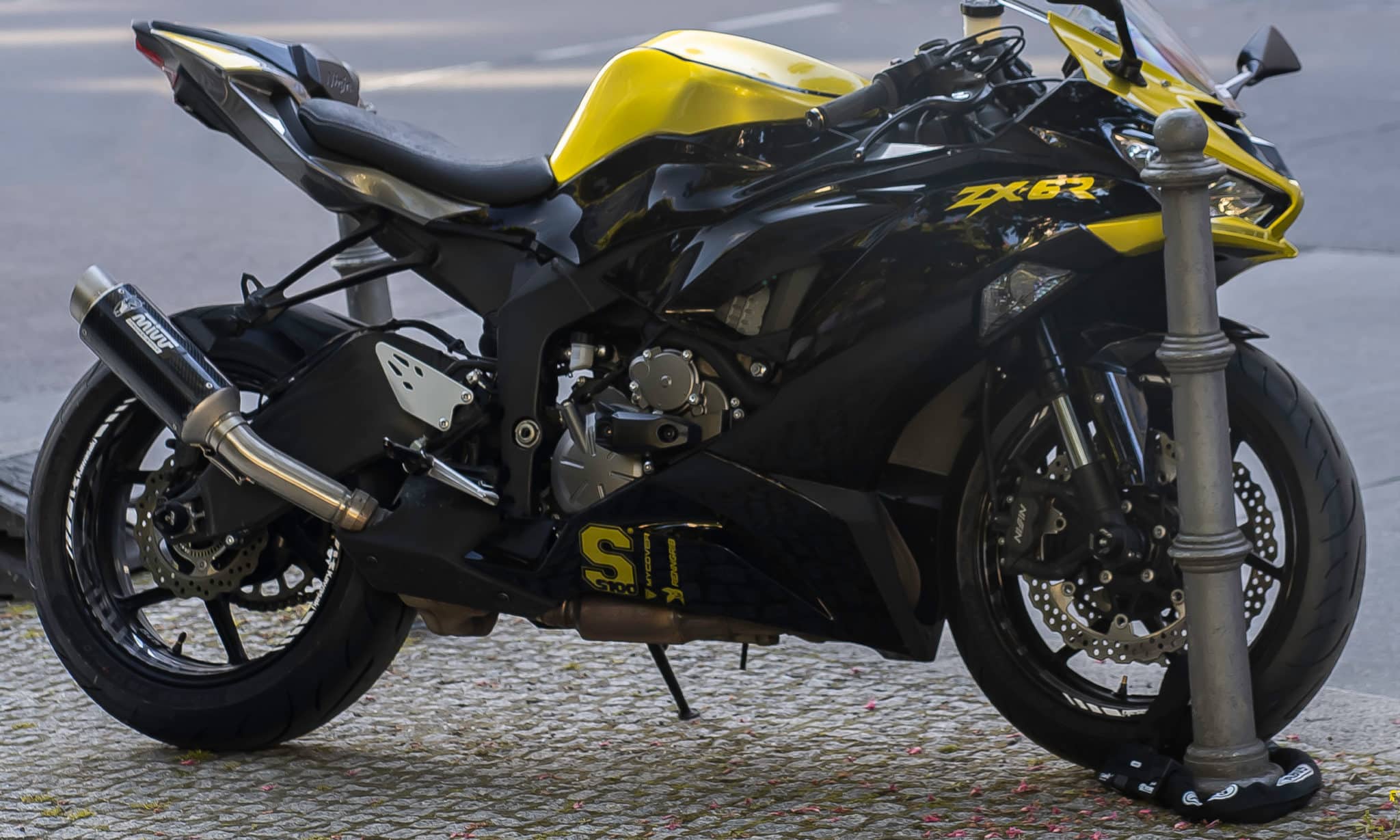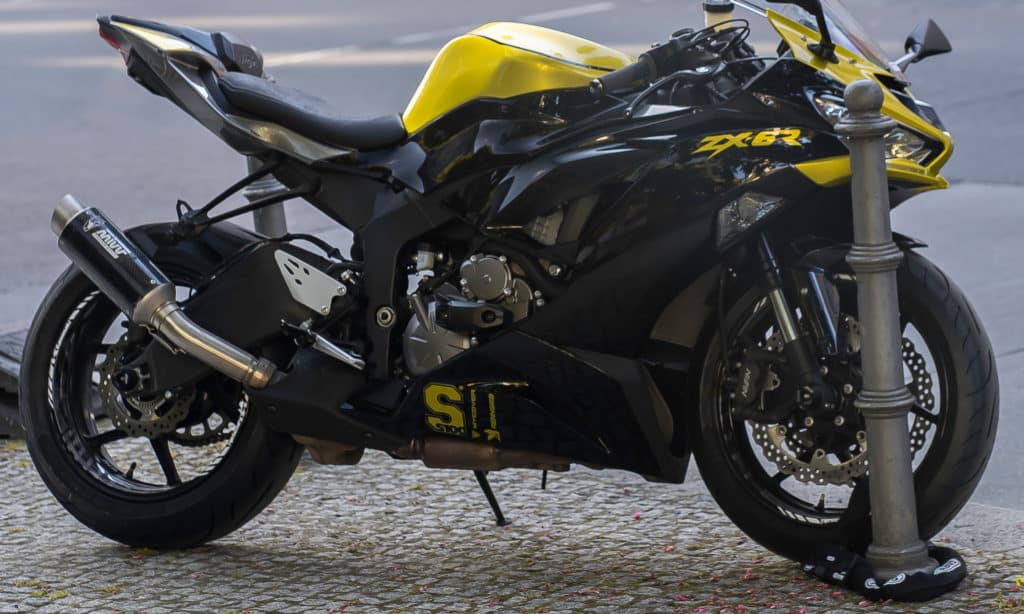 Situation 5: I park my motorcycle on the street, secured to a lamppost or similar.
If possible, use a chain, chain lock combination or U-lock and look for a solid object to connect it to. Should you have problems with transport, use a brake disc lock with alarm to ensure maximum attention.
And the same applies here: the experiences of the police show that the motorcycles and bicycles that have a worse lock than the neighboring bike are usually stolen. So look what the others are doing. Note that a motorcycle can be stolen most quickly on the street if it is not tied to a fixed object.
Our castle recommendations
Situation 6: I park my motorcycle in different places and I'm traveling
Here you have to weigh up which lock you can really take with you when you travel in order to be able to protect yourself effectively against theft of your motorcycle. We recommend the brake disc lock with alarm function and smartphone connection, which quite often fits under the passenger seat in your motorcycle and doesn't waste any more space.
You know how much space you really have when traveling (not much!), so a massive chain or U-lock can be a problem.
If you have the space available, it is best to take a chain lock combination or a U-lock with an adapter plate with you. In addition, a small armored cable with which you can connect your helmets to the motorcycle. (20€ and pocket size)
While the cable won't stand up to a professional bolt cutter, it will make it harder for casual thieves. With the Bluetooth function of the brake disc lock and location storage, you know exactly where you parked, even in a foreign city. Very convenient!
Our castle recommendations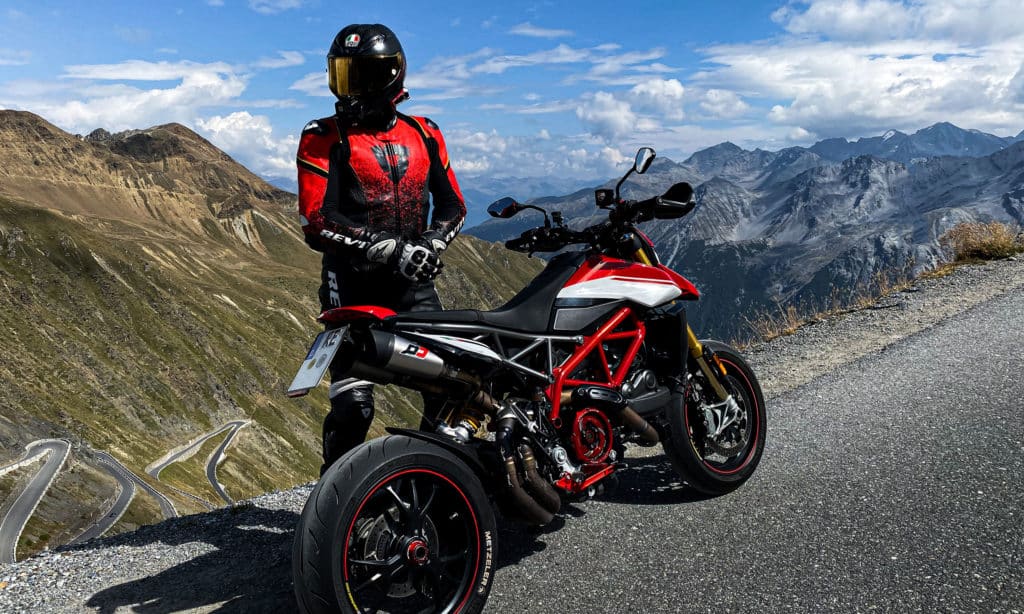 What security levels are there for motorcycle locks?
Motorcycle lock security levels or security levels are very important. Among other things, they are used to make a choice as to which lock to buy and how long your motorcycle will be protected against theft of a criminal.
Unfortunately there are far too many security seals/security levels for locks, which are created individually by the manufacturer and which make it difficult to get an overview. There are also independent certification bodies and thus further seals…
In order to be able to guide you quickly to the right motorcycle lock and to be able to make a serious choice, we have listed the security levels of ABUS for you.
ABUS is the leading manufacturer and has its locks tested by various European testing institutes to ensure neutral and professional anti-theft protection.
So that you can see which level is necessary for your individual anti-theft protection, you should always consider your respective parking situation.
Motorcycle lock test seal / seal of approval and why we recommend ABUS?
ABUS is the world's leading manufacturer of motorcycle locks, locking cylinders and security technology.
Numerous extreme test procedures, complex development strategies and long-term tests lead to various security levels and testing organizations, to the award and award of really safe locks for your motorcycle.
Whether it's a motorcycle lock for your BMW, Kawasaki, Honda, Yamaha, Suzuki, Aprilia, Harley Davidson, MV Agusta, KTM and other motorcycle brands.
They all deserve quality motorcycle lock protection!
Overview of the test seals such as the CE marking and the VDS certification
The ABUS Level System explained
ABUS offers a security level system for motorcycles, which can be classified roughly as follows:
Level 1-4: Beginners
Minimal protection against opportunistic thieves and motorcycle theft in areas with a very low risk of theft
Level 5-9: Solid base
Basic protection against opportunistic thieves and motorcycle theft in medium-risk areas.
Level 10-15: Good anti-theft protection
Anti-theft protection for your motorcycle, even in regions with a higher risk of theft
Level 16-20: Excellent and maximum protection
Don't give thieves a chance! Maximum theft protection for your motorcycle, no matter where and at any time.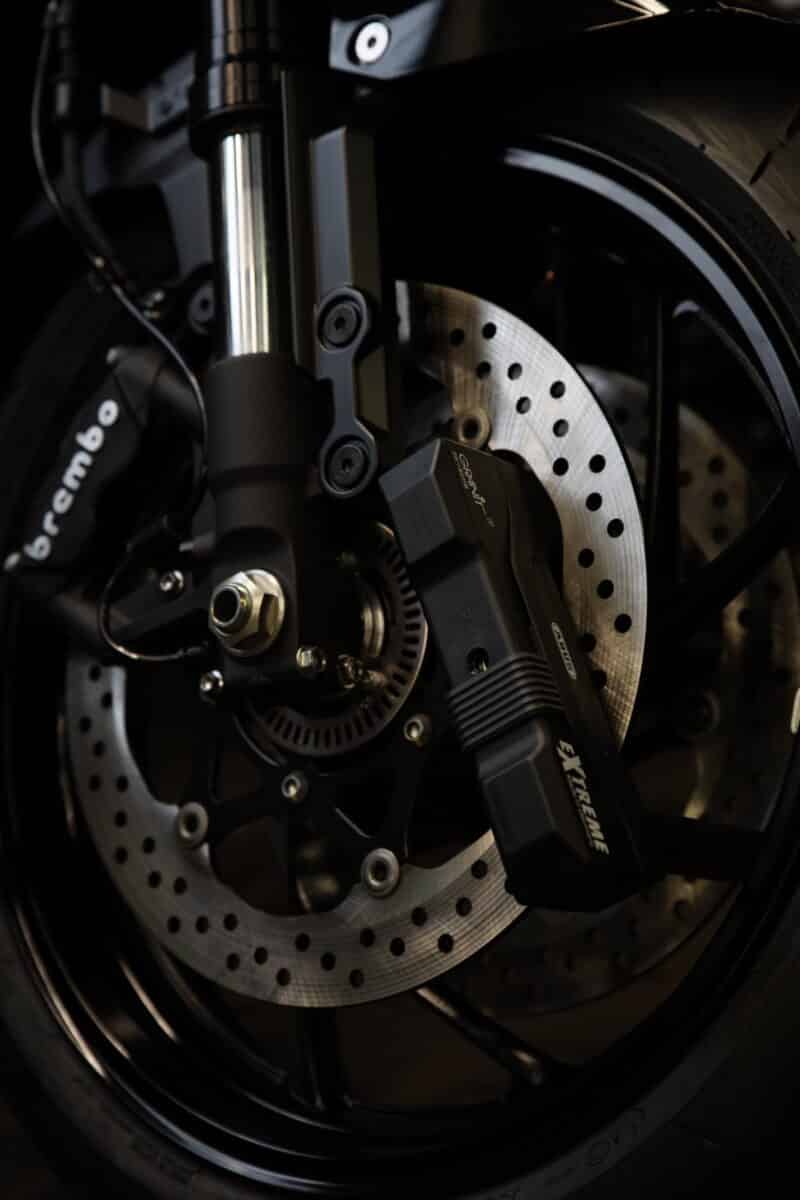 Why buying a motorcycle lock makes sense
To make it clear to you again why buying a motorcycle lock makes sense not only because of the high number of thefts, let's touch on the subject of insurance….for all bikers who want to know a little more!
Every year you pay different insurance fees for the insurance of your motorcycle. There is liability insurance, partially comprehensive insurance and fully comprehensive insurance. The price differences, as well as the insurance cover in the event of theft, are extremely different. Apart from the fact that you don't get any money at all from theft with liability insurance, the situation with partial comprehensive insurance looks similarly bleak. Although this partially covers the theft of your motorcycle, you will only be reimbursed for the current value of your motorcycle.
For example, if you buy a new motorbike tomorrow for €7,500, only drive it around for a week and have around 600km on the clock, you will still only be reimbursed for the current value of your motorbike. Now you think "it can't be that low after a week". Theoretically correct, but the insurance company also looks at which model/model year it is and how it is currently being traded and not just at the first registration.
If the model has been on the market for 2 years and a motorcycle with key data similar to yours only costs €5,500 or less to replace, you've quickly made a loss of €2,000. You can now decide for yourself whether the purchase of the lock would have been worthwhile.
It usually looks a little better with fully comprehensive insurance, but you have to read the insurance conditions carefully here too. You often have to take out extra insurance (GAP) to cover the loss between replacement value and current value.
Unfortunately, your expensive built-in accessories are not covered either. Anyone who has now also financed their vehicle is usually faced with a huge loss and can pay it off for a long time.
By the way, if your motorcycle suddenly turns up again after the theft and the insurance payout, you usually have to pay the money back and argue/negotiate with your insurance company about the damage to the vehicle.
Cost estimates for repairs etc. will then be necessary, but this does not mean that they will pay for your damage. Here you quickly get into the area of vandalism and you may not be insured against it. The insurance companies are only too happy to reach for their old beloved jungle paragraphs and you look into the tube…
So hurry up, buy a good lock and don't burden yourself with such unnecessary things.
Here is another example of insurance costs for your motorcycle
Liability insurance – no theft protection included (150-250€ per year)
Comprehensive insurance – theft protection included but 99% only with the current value of your motorcycle at the time of theft. (350-600€ per year)
Fully comprehensive insurance – theft protection included and usually better insured than partially comprehensive, but still often only covered with the current value instead of the new value. (600-1500€ per year)
The seal of approval for motorcycle locks
VdS: A certificate that guarantees the highest quality for motorcycle locks
VdS Schadenverhütung GmbH is a company of the German Insurance Association (GDV) and works as an independent certification body for safety technology in Germany.
The VdS tests security products and then divides them into classes, which usually serve as a basis for advice for both property insurers and the police.
With its strict certification guidelines, the VdS ensures high-quality products that guarantee the best results and safety even under the most adverse operating conditions.
Therefore, when buying, pay attention to various seals of approval, whether VDS, ART, SRA. ABUS has its locks checked in different countries to ensure neutral theft protection!
CE certificate for motorcycle locks
With the CE marking, which stands for "Communautés Européennes" ("European Community"), consumers can see at a glance that a product meets the requirements imposed on the manufacturer by the European Union.
The CE mark is affixed if a directive exists for the product.
The manufacturer thus confirms compliance with the CE guidelines.
This marking is therefore an indication that the marked product meets the legal requirements of the EU for health protection, environmental protection and safety.
The CE marking is not a seal of quality, but a manufacturer's declaration of compliance with EU directives.
The prerequisite is the testing and confirmation of compliance with the standard by an independent body.
Essentially, it fulfills a function as a supervisory mark, which, for example, is intended to make it easier for trade inspectors in EU countries to inspect the products.
Time for questions and comments
We hope that we were able to answer your questions about "motorcycle locks"!
Before you contact us, please check if there is already a current recommendation for your bike: > Here to the size recommendation <
We are available for you by WhatsApp (by chat) and by email. Please do not double request, we will reply within 48 hours:
I wish you best greetings from the beautiful north
Benjamin (motorcycle salesman) and Constantin (engineer)
Passionate bikers and founders of MYCOVER® – Protection at its finest