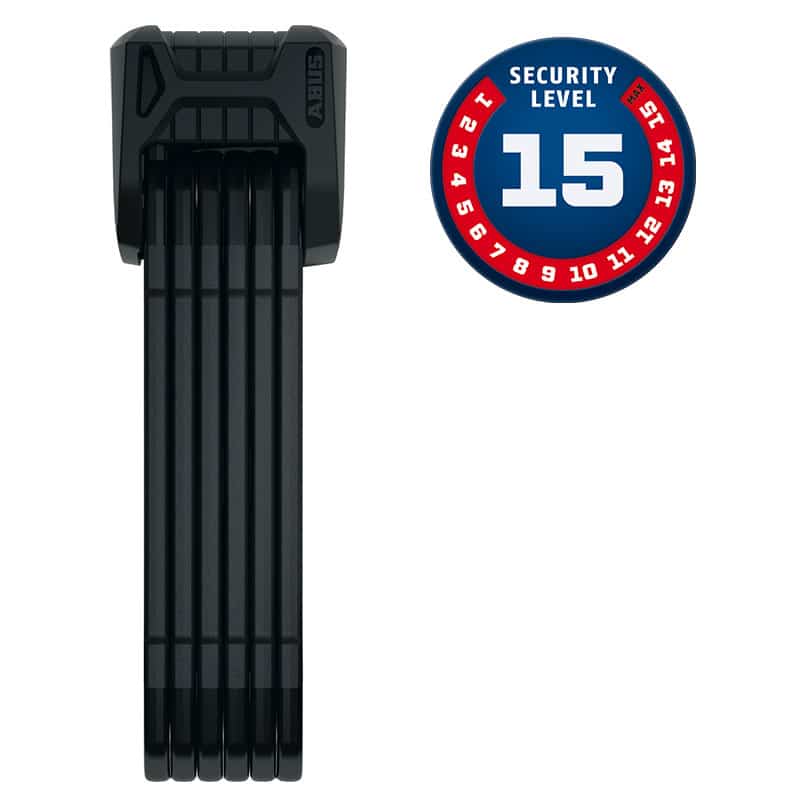 Features of the ABUS BORDO GRANIT XPlus™ Big 6500
110 cm length with safety level 15 out of 20
ABUS XPlus cylinder for extremely high protection against manipulation, e.g. picking
Color-coordinated silicone coating for the lock body with "soft touch" properties
Bars, housing and supporting parts made of specially hardened steel
ABUS BORDO GRANIT XPlus™ Big 6500
BORDO GRANIT XPlus™ 6500 it is called, the folding lock on which motorcycle thieves literally cut their teeth, because they meet ABUS granite. Even from massive attacks protect the 5.5 mm thick struts made of specially hardened steel, which are connected by special rivets. The so-called ABUS Link-Protection-Shield makes these rivets both flexible and extremely robust against attacks with a saw. Precision disc cylinder ABUS XPlus offers the highest possible protection against tampering attempts. This combination earns the BORDO GRANIT XPlus™ 6500 folding lock an even 15 in the ABUS security level system and thus the highest security level.
Probably the best folding lock for your motorcycle, of course, from ABUS with the security level 15, for all bike lovers who value a good lock and want to remain flexible.
A high-quality folding lock usually has good anti-theft protection. The security of a motorcycle folding lock with the Granit X Plus variants is almost as high as with a good padlock or chain lock and is often connected to the frame and a pillar. There are different strengths and lengths, where you should differentiate exactly. The overall weight is much lighter than a chain lock and more compact when folded. With the included transport bag, it can usually be conveniently transported in the rear of the motorcycle or mounted elsewhere for transport using a bracket, on the pillion footrests or even with cable ties.
The advantages ABUS BORDO GRANIT XPlus™ Big 6500
BORDO™ family: Ideal combination of strength, flexibility, weight and transport size
Solid and specially hardened steel
5.5 mm thick rods, with extra soft 2-component coating to protect against paint damage
ABUS Link-Protection-Shield offers high saw protection at the joints
Compact and easy to transport folding lock (e.g. in the rear)
Light weight with only 2160 grams
More value retention for your bike!
scope of delivery
1x LED key + 1x key
operation manual