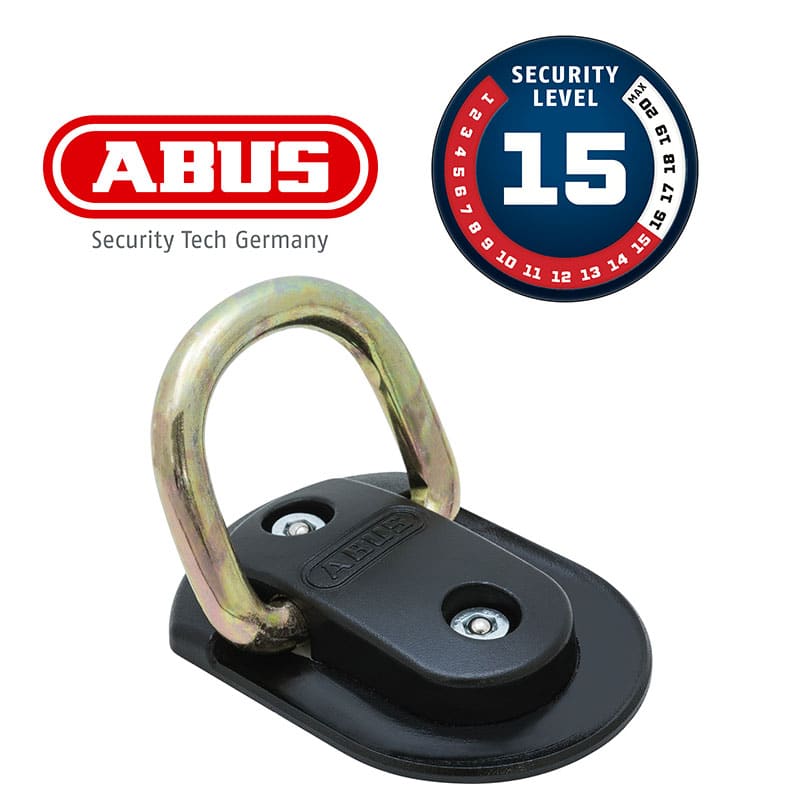 Equipment from the ABUS GRANIT™ WBA75 wall and floor anchor
Security level 15 out of 20
14 mm thick shackle made of hardened special steel for maximum resilience
Can be either floor or wall mounted
Due to its weatherproof design, the WBA 75 can be used both indoors and outdoors
ABUS GRANIT™ WBA75 wall and floor anchor
The quality ground anchor WBA 75 is the perfect supplement for almost all ABUS locks and, of course, to be able to successfully implement the highest theft protection class at home. Although it cannot be taken with you when you travel after it has been installed successfully, you can take the exact part of the lock combination that you have already purchased.
In fact, the GRANIT™ WBA 75 wall-floor anchor is so tight when properly installed that its use in rented properties should be discussed with the landlord beforehand. Once attached, removal is only possible with great effort – and that's a good thing. ("although it's a bit easier to remove than the WBA 100")
Its 14 mm strong shackle made of hardened special steel offers maximum resistance. If you combine your ABUS lock with it, you have taken good precautionary measures to protect your bike from theft.
Inexpensive and the highest theft protection class for your motorcycle: If you park on your own property, in a garage or carport, the combination of a motorcycle lock and an additional ground anchor can significantly increase theft protection. Simply carrying it away or pushing it away from the motorcycle is no longer possible.
A ground anchor is mounted to the wall or floor with a solid screw. The experienced hobby craftsman only has to drill a simple hole with a drill: working time incl. unpack and assemble about 10 minutes. The motorcycle can then be attached to the ground anchor with a chain lock, U-lock, folding lock, brake disc lock or any combination of chain locks.
The advantages ABUS GRANIT™ WBA75 wall and floor anchor
Good anti-theft protection
In combination with an ABUS lock, this offers maximum security
The fastening anchor enables two-wheelers to be connected in garages, in cellars and houses, carports and much more.
Low price for significantly more security
Due to the flat design and high-quality plastic cover, driving over the WBA 75 in the garage, for example, is no problem
Better suited for rental properties than ownership, as it is easier to dismantle than WBA 100
More value retention for your bike!
scope of delivery
Incl. mounting accessories
operation manual
Frequently Asked Questions
How do I mount the ground anchor?