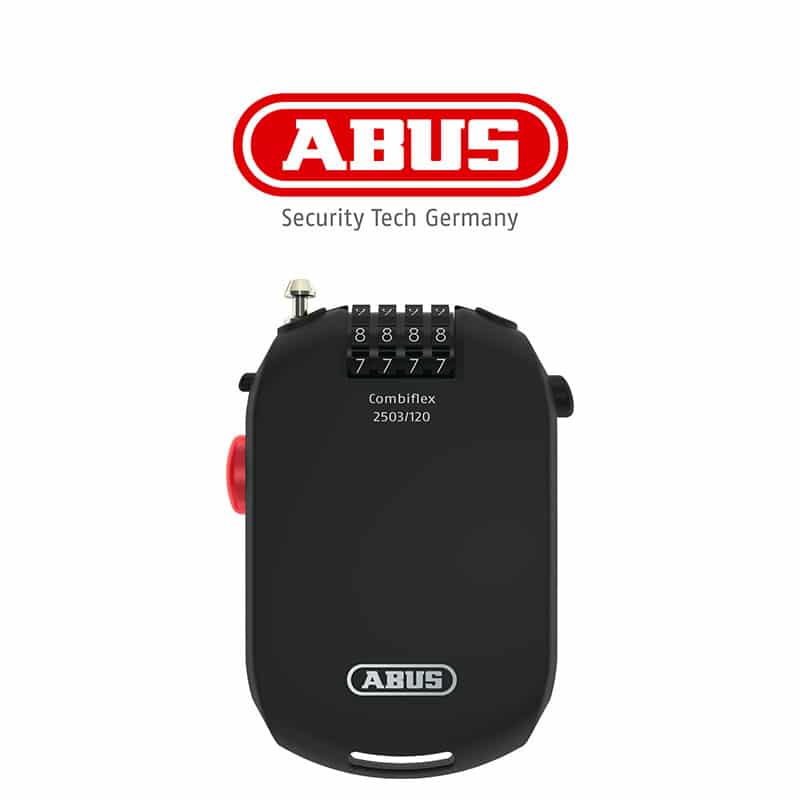 Features of the ABUS COMBIFLEX™ 2503 special lock
Length from 120cm
Self-retractable cable
Ideal for securing luggage, motorcycle helmets
Numerical code can be set and changed by the user
Extremely compact: Fits in a jacket pocket
Technology from ABUS
Pocketsize
Small size lock
Individual Code
Number combination can be freely selected
Lightweight
Lightweight lock ideal for sports use
ABUS COMBIFLEX™ 2503 special lock
The Combiflex is so small and light that you hardly notice it during a motorcycle tour. Smaller than a smartphone and no heavier than a few energy bars or gels. The perfect backup for motorcycle helmets or a quick coffee stop.
Enter the world of motorcycle locks with the armored cable
The armored cable is probably the smallest and lightest entry level, for an additional anti-theft device from the motorcycle. On motorcycle tours or on vacation, several motorcycles, helmets and other luggage can be practically secured to the motorcycle.
The cable is in a small container, can be pulled out to a length of 120cm in a few seconds and hooked on the other side. It is attached to the frame or the bike and is secured with a four-digit combination lock.
The advantages ABUS COMBIFLEX™ 2503 special lock
Practical for vacation
Extremely compact roll-back cable lock against carry-along and opportunistic thefts
Can be transported in the rear to save space
Favorable price
More value retention for your bike!
Frequently Asked Questions
How can I open and close the ABUS COMBIFLEX™ wire cable lock?

The ABUS COMBIFLEX™ can be opened easily and quickly with a freely selectable four-digit number combination in no time at all .