ABUS PS88 care and de-icing spray
Nichtfettendes Spezial-Pflegespray für Motorrad, Auto, Haustüren etc.
Geeignet für alle ABUS Motorradschlösser und Zündschlösser
Korrosionsschutz gegen Salz, Wasser / Feuchtigkeit: Schützt vor dem Rosten des Schlosses
Beugt Vereisungen von Motorrad – Schlössern vor
Verwendabar als Kontaktspray im Elektro- und Elektronikbereich
Löst angerostete Schrauben, Bolten, Ventile und Felgenmuttern
The ABUS PS88 care spray for annual care
Rain, hail, sun, snow, wind, dirt and whatever else a lock has to withstand. It doesn't matter whether it's your ignition lock on a motorcycle, the security lock on your scooter or the case system on your touring motorcycle. The ABUS lock spray PS88 is an important companion and essential for everyone who values long-term reliability.
No matter how robust a lock is: Inside there is a filigree mechanism that is subject to daily and year-round use due to moisture and dirt. This can damage the locking mechanism over time. That is why the care of ignition locks and motorcycle locks is equally important.
With the care spray PS88 from ABUS you can lubricate your lock and put an end to squeaking and creaking doors, windows and drawers. To prevent the car or motorcycle lock from freezing on cold winter days, spray the lock with the care spray from ABUS beforehand. The spray helps to prevent icing. Once sprayed on, it leaves a moisture-repellent protective film which accordingly prevents moisture from freezing. This protective film also ensures that the spray can be used as protection against corrosion.
Necessary hazard warnings , please refer to the respective product information on the product or packaging for precise information: Extremely flammable aerosol / May be fatal if swallowed and enters airways / Repeated exposure may cause skin dryness or cracking / May cause an allergic reaction.
Hazard statements: H220 – Extremely flammable gas / H229 – Pressurized container: may burst if heated / H336 – May cause drowsiness or dizziness / H411 – Toxic to aquatic life with long lasting effects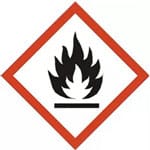 More value retention for your bike!
Frequently Asked Questions
Does the ABUS PS88 care spray also help in winter?

Yes, the non-greasy special care spray ABUS PS88 prevents motorcycle and ignition locks from icing up, is moisture-repellent and thus prevents corrosion in the lock cylinder. Cylinder locks that get stuck easily in summer can cause real problems in winter! It is therefore recommended (before problems arise) to regularly clean and maintain the locking cylinder with a spray.