Winterproof motorcycle tarpaulin? How to get through the winter safely!
Not everyone is lucky enough to have a garage where their own motorcycle can overwinter. Therefore, the question arises for many bikers as to how to properly protect their motorcycle from the whims of nature in winter.
To anticipate the most important point: If you leave your motorcycle outside all winter without additional protection, there is usually a nasty surprise at the start of the next season! Those who do not act proactively here often have to pay dearly for this in the coming year.
What should you pay particular attention to in winter when you have to leave your motorcycle outside? Can a winter-proof motorcycle tarpaulin protect you?
The MYCOVER® team explains!
How can a winterized motorcycle tarpaulin protect?
If a motorcycle is left outside all year round, it must be properly protected against rain, snow and frost. Sharply falling temperatures down to -20 °C are stressful for the motorcycle and its electronic components and can lead to permanent damage if no additional protection is available.
With a winterproof and hard-wearing motorcycle tarpaulin, you can bring your motorcycle safely through the winter until the start of the next season!
Is there anything to pay special attention to? Yes! Mostly ignored: the salt from gritting vehicles!
The salt or other grit that hits the paintwork from spreaders or unintentionally from snowballs causes expensive scratches on the paintwork.
Another mostly underestimated problem is the melt water. It flows into every gap or opening, no matter how small, and when it freezes again, it expands so that components not only get slight cracks, but are literally "blown up".
Common problems that occur without a motorcycle tarpaulin are:
Rust in spring on various components (on screws, chain, etc.)
Damaged rubber, plastic and chrome components
Paintwork damaged by road salt and road gritters
Defective electronic components such as the cockpit or controls
Hail damage to paintwork, cockpit and windshield
No inner lining to protect against scratches
In order to get through the winter carefree, your motorcycle needs additional protection with a high-quality outdoor motorcycle tarpaulin!
Not every motorcycle tarpaulin is winterproof and suitable for winter!
ATTENTION: Cheap tarpaulins damage your motorcycle!
Unfortunately, there are many cheap motorcycle covers on the market that will do more damage than protect your motorcycle. In the past, we as bikers had to experience for ourselves that a "cheap" motorcycle tarpaulin usually didn't even last a season or the winter.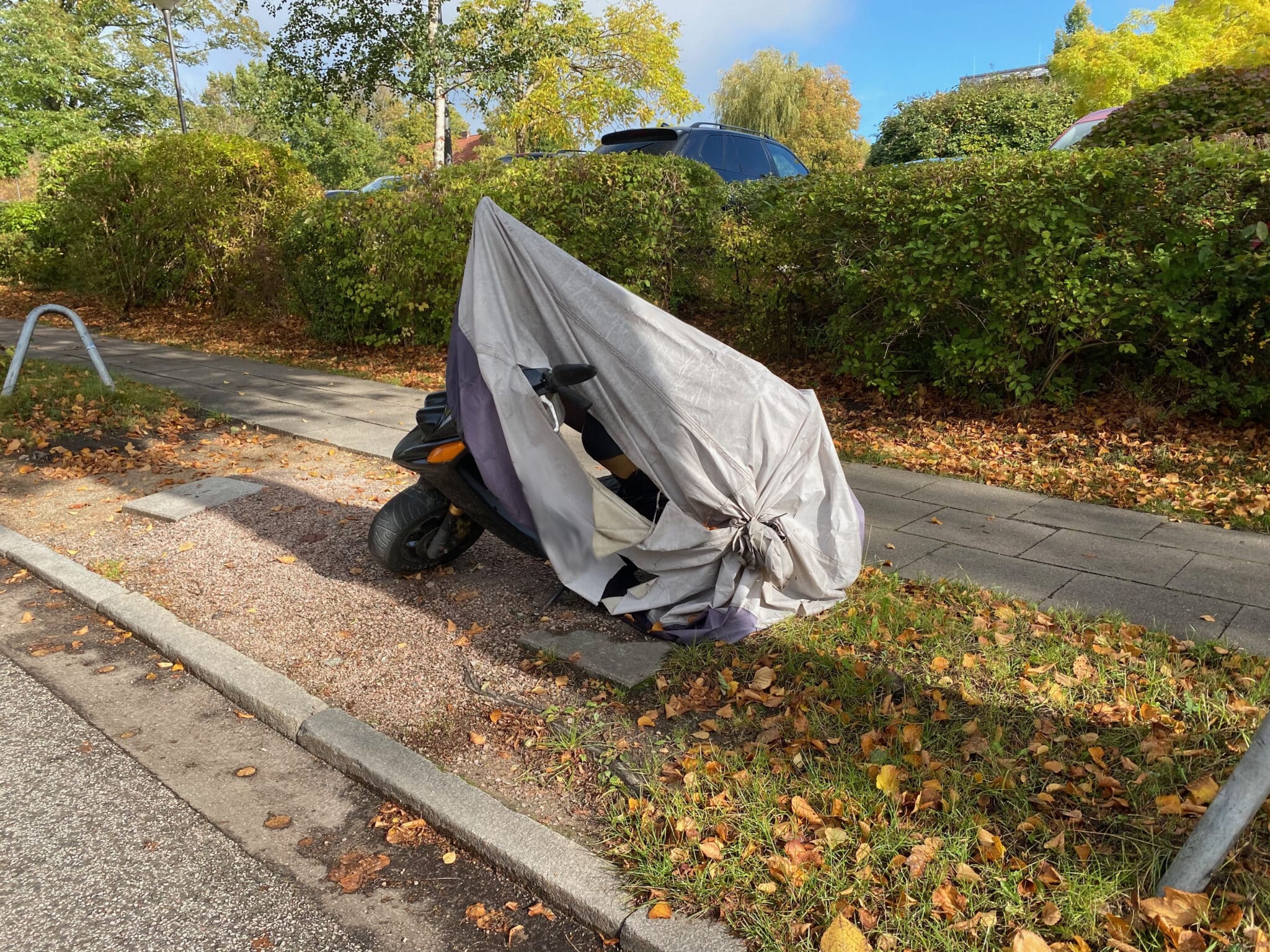 Common problems of cheap motorcycle tarpaulins in winter:
Too thin and not tear-resistant fabrics
No winterproof outdoor material
Poor workmanship of the seams
No additional fixations available
Poor general passfrom
No inner lining to protect against scratches
Make sure the material is 300 denier – often abbreviated to "300D" – as thinner materials tend to tear easily when frozen or the seams come loose due to poor workmanship.
You can find out more information about what to look out for before buying a tarpaulin in our motorcycle tarpaulin advisor .
Winterize your motorcycle with the right tarpaulin
In order to protect your motorcycle from the damage mentioned and the loss of value in winter, we recommend a high-quality motorcycle tarpaulin: With a resistant, winter-proof outdoor material and a soft inner fleece , which protects the paintwork of your motorcycle in the long term.
No more nasty surprises for you after hibernation!
Discover now our winterproof premium outdoor motorcycle cover.
Questions about the winter-proof motorcycle tarpaulin
Which motorcycle tarpaulin is winterproof?

A winter-proof motorcycle tarpaulin should consist of a hard-wearing outer material and a soft inner fleece. Not every motorcycle tarpaulin is winterproof and you should definitely pay attention to the manufacturer's instructions. A motorcycle cover that is not winter-proof can damage the paintwork and other components of the motorcycle.

Our tip: Take a look at our motorcycle tarpaulin advisor
Where to safely overwinter the motorcycle?

A garage is very well suited for storing motorcycles over the winter. Here, too, a motorcycle tarpaulin offers additional protection against dust, dirt, scratches and prying eyes.

If there is no garage and the motorcycle is regularly under a carport or even outside all year round, you should protect your motorcycle with your high-quality tarpaulin. By using a high-quality cover, your own motorcycle can spend the winter outside without any problems.
What size for a motorcycle tarpaulin in winter?

The same applies in winter as in summer: A tarpaulin should fit as precisely as possible in order to be able to protect the motorcycle adequately. With elastic hems and additional safety belts, the motorcycle cover adapts perfectly to your motorcycle.

Which tarpaulin fits your motorcycle? Click here for outdoor motorcycle cover size recommendation
When should you cover your motorcycle with a motorcycle tarpaulin in winter?

In order to avoid depreciation and unnecessary repairs, a motorcycle should always be covered. A good tarpaulin protects indoor and outdoor from dirt, dirt and damage. A tear-resistant tarpaulin is also good theft protection for casual thieves. Security can be further increased by combining a cover with an ABUS lock.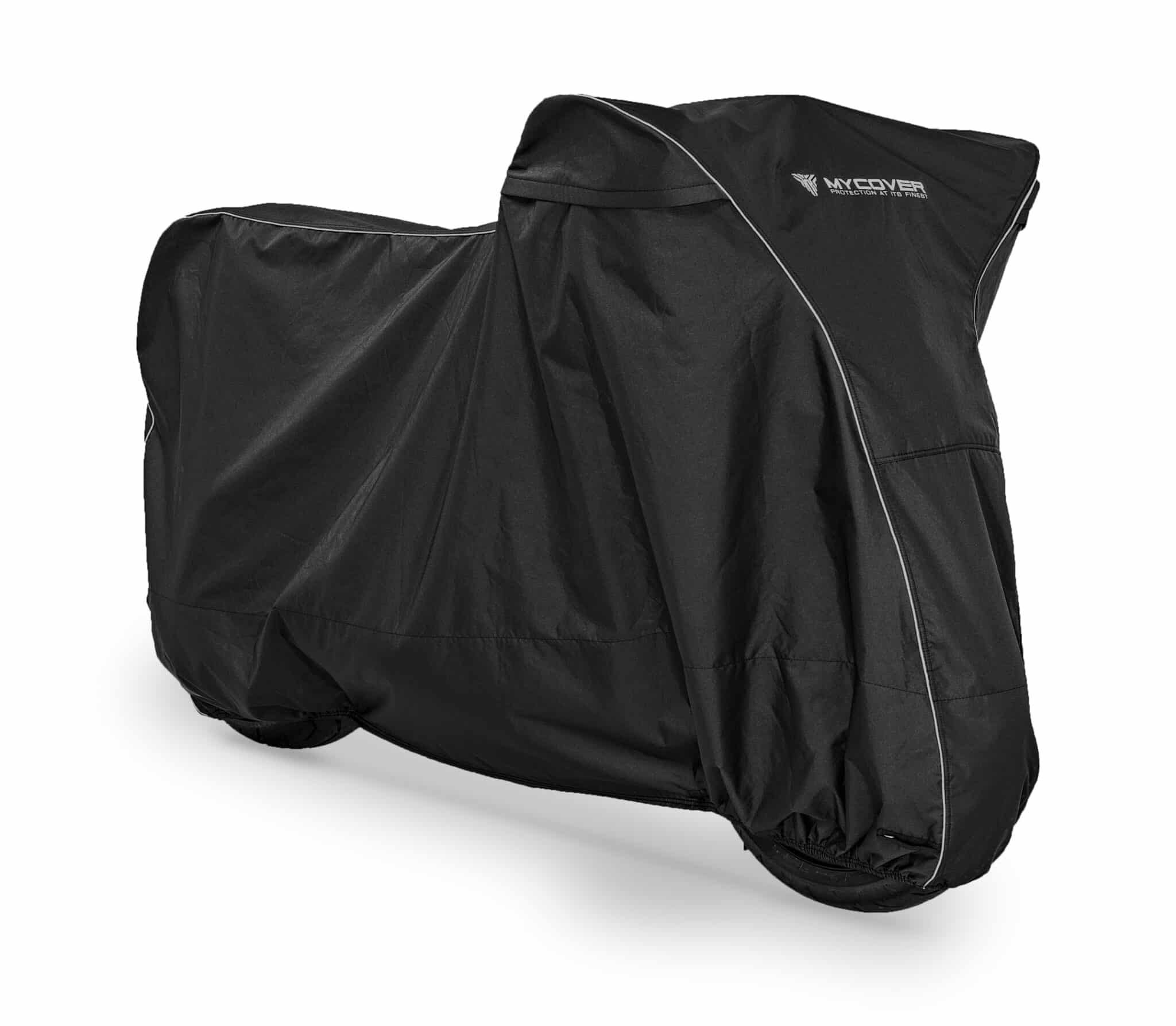 Premium outdoor motorcycle tarpaulin from MYCOVER®
A high-quality motorcycle deserves a high-quality motorcycle cover
The MYCOVER® Premium Outdoor motorcycle cover also offers your bike optimal protection against moisture, dirt and scratches. With 10 well thought-out functions – developed by bikers for bikers – for optimal value retention of your motorcycle!
It is suitable for outdoor use all year round in winter, but is also wonderfully suitable as an indoor motorcycle cover for your garage or carport.
---