Equipment of the ABUS 440A/150 ALARM
Safety level 8 from 15
Hardened 12 mm round bracket
Specially hardened steel parts for maximum safety
Modern design for optimum handling High-quality locking cylinder to prevent tampering
100 dB loud alarm function for 15 seconds
Vibration sensor for additional protection
Technology from ABUS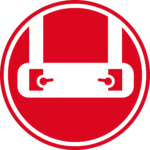 Double locking
Double locking of the shackle in the lock body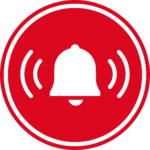 Alarm
Lock with 100 dB alarm function
ABUS 440A/150 ALARM
The ABUS 440A/150HB230 Alarm U-lock is the ideal solution to effectively protect your bike from theft. It combines proven ABUS security technology with a powerful alarm system, making it more than just a conventional lock. The compact design and the hardened 12 mm round bracket ensure a robust construction.
Made of specially hardened steel, the shackle, housing and load-bearing parts of the locking mechanism are extremely resistant to attempts to break them open. The high-quality lock cylinder provides additional protection against manipulation such as picking. But the highlight of this U-lock is undoubtedly the integrated alarm system.
The 3D Position Detection System registers even the smallest movement and vibration. As soon as someone tampers with the bike, the alarm sounds at a deafening 100 decibels – comparable to the noise of a circular saw. This volume can be heard from afar and effectively deters any potential thief. The alarm runs for 15 seconds and is then automatically re-armed.
The 440A/150HB230 U-lock comes with a CR2 battery so it's ready to go right out of the box. The modern design of the lock body casing enables comfortable handling. Protect your prized possession with this reliable alarm system and enjoy the peace of mind that your bike is optimally protected no matter where you park it.
More value retention for your bike!
scope of delivery
operation manual
CR2 battery
2x key
QR code card (for spare key)
USH – Holder
Frequently Asked Questions
How can I open and close the U-lock?

The ABUS 440A/150HB230 ALARM can be opened and closed classically by key.